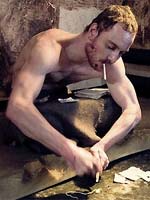 Sorry for following up on this so long after Kris' teaser… what can I say? It's Christmas party central round these parts.
Anyway, the London Film Critics' Circle Awards are a bit of an odd duck in the kudos calendar, but not an uninteresting one. They tend to try to have their cake and eat it — honouring both British and international achievements in categories that seem segregated at first glance, but actually aren't. So this year, you'll see Danny Boyle crop up in both the Director of the Year and British Director of the Year fields. The same goes for Kate Winslet in the actress races. (They also hedge their bets there, nominating her jointly for "Revolutionary Road" and "The Reader.")
Meanwhile, only one screenwriting category exists, while only British actors are singled out for supporting honours. Which is why non-British supporting players like Heath Ledger and Penelope Cruz are competing in the Actor and Actress of the Year categories, respectively — so don't get too excited about that. (Meanwhile, the Brit supporting categories are a real stretch… I mean, Toby Jones?)
If you're confused, I don't blame you. It's a haphazard system, but nonetheless, when you dig through the nominations there's some real gold to be found. The nod for Tilda Swinton's extraordinary work in Eric Zoncka's "Julia" is truly inspired, while one has to applaud the anti-herd mentality that leads to such inclusions as Josh Brolin for "W." or Terence Davies in the British Director category. Compared to the dull-as-dishwater SAG nominees foisted upon us this morning, at least there's a little initiative at play here.
More commentary, and a full list of nominees, after the cut.
From a global perspective, the most interesting news here is yet another Best Picture nod for "WALL-E." Given that "The Dark Knight" wasn't nearly the same level of phenomenon in the UK that it was in the US (this was the summer of "Mamma Mia!" in these parts, after all), one shouldn't be surprised that it doesn't make the cut here, though Christopher Nolan is in the mix for British Director of the Year. However, "WALL-E" continues its resurgence as the year's most critically adored blockbuster — with even the Brits backing it now, I'm starting to think a Best Picture Oscar nod is highly likely.
The overriding impression I get from these nominees, however, is that it's been a surprisingly terrific year for British cinema. "Slumdog Millionaire," "Hunger," "Happy-Go-Lucky," "In Bruges" … these are all fiercely original, complex works of cinema that are, dare I say it, more alive and alert than most of the American Oscar contenders jostling for position. Call me biased, even a little smug, but from where I'm standing, this is one year that Britannia does indeed rule the waves.
Film of the Year
"The Curious Case of Benjamin Button"
"Frost/Nixon"
"Milk"
"WALL-E"
"The Wrestler"
British Film of the Year
"Happy-Go-Lucky"
"Hunger"
"In Bruges"
"Man on Wire"
"Slumdog Millionaire"
Foreign Language Film of the Year
"Gomorrah"
"I've Loved You So Long"
"The Orphanage"
"Persepolis"
"Waltz With Bashir"
Director of the Year
Darren Aronofsky, "The Wrestler"
Danny Boyle, "Slumdog Millionaire"
Clint Eastwood, "Changeling"
David Fincher, "The Curious Case of Benjamin Button"
Gus Van Sant, "Milk"
British Director of the Year
Danny Boyle, "Slumdog Millionaire"
Terence Davies, "Of Time and the City"
Mike Leigh, "Happy-Go-Lucky"
Steve McQueen, "Hunger"
Christopher Nolan, "The Dark Knight"
Actor of the Year
Josh Brolin, "W."
Frank Langella, "Frost/Nixon"
Heath Ledger, "The Dark Knight"
Sean Penn, "Milk"
Mickey Rourke, "The Wrestler"
Actress of the Year
Penelope Cruz, "Vicky Cristina Barcelona"
Anne Hathaway, "Rachel Getting Married"
Angelina Jolie, "Changeling"
Meryl Streep, "Doubt"
Kate Winslet, "The Reader" and "Revolutionary Road"
British Actor of the Year
Michael Fassbender, "Hunger"
Ralph Fiennes, "The Duchess"
Ben Kingsley, "Elegy"
Dev Patel, "Slumdog Millionaire"
Michael Sheen, "Frost/Nixon"
British Actress of the Year
Rebecca Hall, "Vicky Cristina Barcelona"
Sally Hawkins, "Happy-Go-Lucky"
Kristin Scott Thomas, "I've Loved You So Long"
Tilda Swinton, "Julia"
Kate Winslet, "The Reader" and "Revolutionary Road"
Best British Actor in a Supporting Role
Liam Cunningham, "Hunger"
Toby Jones, "Frost/Nixon" and "W."
Eddie Marsan, "Happy-Go-Lucky"
Peter O'Toole, "Dean Spanley"
Mark Strong, "Body of Lies"
Best British Actress in a Supporting Role
Hayley Atwell, The Duchess
Kristin Scott Thomas, "Easy Virtue"
Tilda Swinton, "The Curious Case of Benjamin Button"
Emma Thompson, "Brideshead Revisited"
Alexis Zegerman, "Happy-Go-Lucky"
Screenwriter of the Year
Simon Beaufoy, "Slumdog Millionaire"
David Hare, "The Reader"
Martin McDonagh, "In Bruges"
Peter Morgan, "Frost/Nixon"
Eric Roth, "The Curious Case of Benjamin Button"
Young British Performer of the Year
Asa Butterfield, "The Boy in Striped Pyjamas"
Georgia Groome, "Angus, Thongs and Perfect Snogging"
Bill Milner, "Son of Rambow"
Dev Patel, "Slumdog Millionaire"
Will Poulter, "Son of Rambow"
Thomas Turgoose, "Somers Town" and "Eden Lake"
Breakthrough British Filmmaker
Joanna Hogg, "Unrelated"
Martin McDonagh, "In Bruges"
Steve McQueen, "Hunger"
James Watkins, "Eden Lake"
Rupert Wyatt, "The Escapist"
Dilys Powell Award for Outstanding Contribution to Cinema
Judi Dench