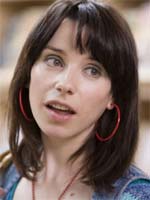 I know I shouldn't get upset. As Sasha Stone over at Awards Daily repeatedly intones, when it comes to awards analysis, "the trick is not minding." You should coolly observe the trends, learn from them and be guided always by your head rather than your heart.
But damn it, I'm only human. I can't help getting invested in certain contenders. And I don't mind admitting that I was utterly dismayed by this morning's thoroughly unadventurous and, worse yet, insular set of SAG nominations. Did the voters really carefully consider all the possible options before putting pen to ballot paper? Did they really take time to decide which of the year's performances and ensembles most moved and challenged them? Or did they simply reel off the five names in each category that they've heard the most about, and think are most likely to feature in the Oscar race?
Maybe the answer to the first two questions is "yes." But I doubt it. I find it hard to imagine that any actor adequately attuned to their own craft could consider all the female supporting performances of the year and somehow decide that Amy Adams' performance in "Doubt" was more rich and complex than what Rosemarie DeWItt achieved in "Rachel Getting Married," or Marisa Tomei in "The Wrestler."
I don't believe (or at least I don't want to believe) that actors who supposedly have some experience of ensemble work can fail to notice that the ensembles of "Synecdoche, New York," "The Dark Knight," "Happy-Go-Lucky," "Vicky Cristina Barcelona" or even "Rachel Getting Married" are denser, more intricate and infinitely more integrated than those of "Frost/Nixon" or "Doubt."
A great ensemble is about more than the prestige of the names within it. You'd expect actors to understand that, and last year's off-the-wall nominations for "Hairspray" and "3:10 to Yuma" suggested that maybe, just maybe, they did. This year, however, was back to business as usual, as they turn their highest and most unique award into yet another Best Picture-emulating copycat list.
(More thoughts, and predictions, after the cut.)
Meanwhile, anyone who has kept up with my posts over the months will know which snubs sting the most for me. I accept that Kristin Scott Thomas, who has been losing momentum for some time now, was never likely to make the cut, but the omission of Sally Hawkins — by some measure the critical favourite of the season thus far — looks like a pointed snub to me, one that indicates a clear reluctance to embrace someone from outside the fold, however significant (and acclaimed) her achievement.
I shouldn't be surprised, really. In the Best Actress category, SAG has a history of ignoring bright young Brits who go on to score Oscar nods: Keira Knightley ("Pride and Prejudice"), Samantha Morton ("In America") and Emily Watson ("Breaking the Waves") were all SAG-snubbed. Watson's case is an an especially comparable one: a widely unknown actress with a wad of critics' awards for a difficult, divisive little film, it's the kind of performance that makes it onto the Oscar list by virtue of a select, passionate band of discerning voters who put it in poll position on their ballots.
So I remain confident that someone like Hawkins can claw her way into the Oscars on #1 votes. The same goes for the Supporting Actress category: how many #1 votes is Amy Adams going to receive ahead of her film's undisputed standout, Viola Davis? I think DeWitt and Tomei could still easily displace her on the Oscar ballot if more people single them out as their clear favourite in the category, rather than simply a third wheel in a film they kinda liked.
I realize I'm whining. I apologise for that, which is why I want to conclude this piece with two nominations that did make me happy. (Well, three if we count the non-nomination of Clint Eastwood.) I know some people were surprised to see Richard Jenkins and especially Melissa Leo make the cut, but I certainly wasn't — and not just because they absolutely deserve to be there.
Jenkins and Leo are long-serving American character actors who have worked frequently and broadly across film and television, and are consequently a lot more familiar to their peers than they are to most audiences. They are consummate SAG members, and actors like that are always going to score here. But the fact that their nominations are richly deserved rewards for remarkable performances doesn't change the fact that SAG awards remain, by and large, an insiders' game. Here's hoping the Academy opens the door a little wider.
MY PREDICTIONS
Best Ensemble: "Slumdog Millionaire"
Best Actor: Sean Penn, "Milk"
Best Actress: Anne Hathaway, "Rachel Getting Married"
Best Supporting Actor: Heath Ledger, "The Dark Knight"
Best Supporting Actress: Viola Davis, "Doubt"
Best Stunt Ensemble: "The Dark Knight"