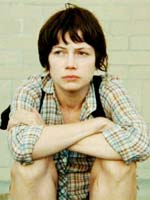 I'm not trying to keep up with the plethora of obscure critics' awards anymore — with all due respect to the good people of Dallas or Tulsa or Albequerque or wherever, I don't particularly care what their critics have to say. Harsh, but true.
So from here on out, the only critics' picks worth mentioning are the either the ones from a credible institution with at least some history, or the ones that highlight something interesting or under-appreciated. (As opposed to handing "Slumdog Millionaire" its 87th gong — great film, but seriously, to all the tiny critics' groups out there trying to get noticed, why not veer from the herd?)
Happily, the Toronto Film Critics Association Awards fulfil both requirements. They've been around for ten years, but in that time they've built a reputation for unusual (and pretty great) choices, honouring the likes of "Magnolia," "Memento" and "A History of Violence." I think any group that has singled out Miranda Richardson for "Spider" and given Best Director to the Dardenne brothers deserves my attention.
And they've earned it again this year, handing Best Picture and Best Actress to the quietly stunning "Wendy and Lucy" — between this and its unexpected AFI list placing, Kelly Reichardt's microbudget drifter tale is having a very good week indeed, while I'm glad some folks are acknowledging what a banner year Michelle Williams has had professionally.
Their full list, with runners-up, after the cut. Pretty interesting picks all round (Van Damme — ha), even if the love for "Rachel Getting Married" continues to elude me. Also, the fact that they love her film enough to give it their top prize, but Kelly Reichardt doesn't even appear in their runners-up for Best Director, leaves a bit of a sour taste. I'm not saying sexism is at play here, but it doesn't make a great impression.
BEST PICTURE: "Wendy and Lucy"
Runners-up: "Rachel Getting Married"; "WALL-E"
BEST ACTOR: Mickey Rourke, "The Wrestler"
Runners-up: Sean Penn, "Milk"; Jean-Claude Van Damme, "JCVD"
BEST ACTRESS: Michelle Williams, "Wendy and Lucy"
Runners-up: Anne Hathaway, "Rachel Getting Married"; Meryl Streep, "Doubt"
BEST SUPPORTING ACTOR: Heath Ledger, "The Dark Knight"
Runners-up: Josh Brolin, "Milk"; Robert Downey, Jr, "Tropic Thunder"; Philip Seymour Hoffman, "Doubt"
BEST SUPPORTING ACTRESS: Rosemarie DeWitt, "Rachel Getting Married"
Runners-up: Penelope Cruz, "Vicky Cristina Barcelona"; Viola Davis, "Doubt"
BEST DIRECTOR: Jonathan Demme, "Rachel Getting Married"
Runners-up: Danny Boyle, "Slumdog Millionaire"; Andrew Stanton, "WALL-E"
BEST SCREENPLAY: Jenny Lumet, "Rachel Getting Married"
Runners-up: John Patrick Shanley, "Doubt"; Peter Morgan, "Frost/Nixon"
BEST FIRST FEATURE: "Ballast"
Runners-up: "The Band's Visit"; "Frozen River"
BEST ANIMATED FEATURE: "WALL-E"
Runners-up: "Kung-Fu Panda"; "Persepolis"; "Waltz with Bashir"
BEST FOREIGN-LANGUAGE FILM: "Let the Right One In"
Runners-up: "A Christmas Tale"; "The Class"; "I've Loved You So Long"
BEST DOCUMENTARY FEATURE: "Man on Wire"
Runners-up: "Standard Operating Procedure"; "Up the Yangtze"