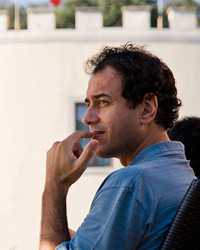 In a year that hasn't exactly wanted for strong European cinema, Matteo Garrone's "Gomorrah" ranks as one of its most staggering offerings — as reflected by its well-deserved placing on Kris's top 10 list yesterday.
A brutal, multi-stranded portrait of daily life within Naples's notorious Camorra crime syndicate, it brings a keen sociologist's eye to the terrain of mafia cinema — thanks largely to the minutely detailed research of Roberto Saviano (whom Kris interviewed here), upon whose bestselling exposé the film is based, but also to the humanism and objectivity of Garrone himself.
The affable Italian, who recently turned 40, is still getting his head around his film's success.  When we speak, he has just arrived in New York after collecting a bushel of prizes in Copenhagen at the European Film Awards. Although he made his feature debut a decade ago, until now he hasn't been the best-known name on the Italian cinema scene, and he admits to feeling considerable pressure in taking on the project.
"Domenico [Procacci, the film's producer] got the rights to Roberto's book before it was published and sent it to me," he explains. "I was shocked, but found it very powerful, very unusual in the characterization. I saw an opportunity to make a very different kind of Mafia movie."
However, once the book was actually published, the game changed for Garrone. "I didn't know it was going to be such a huge bestseller," he laughs. "Suddenly this movie became a much bigger deal, and there was much more box office pressure. I had made a couple of other movies that had done well with critics, but were disasters at the box office. I was worried that I was now the wrong person to make 'Gomorrah,' but it was too late!"
He needn't have worried: in addition to the stream of awards talk the film has gathered since taking the Grand Prix at Cannes, "Gomorrah" has stormed the Italian box office and done healthy art house business elsewhere, while expectations are high for its limited U.S. release this Friday. Garrone describes the film's commercial performance as "a miracle.  It's such a rigorous film, I was worried audiences might find it too harsh. But I think some people have gone in to see a gangster movie and come out surprised by what an emotional experience it is."
Although the film pulls no punches in depicting the very bleak reality of the gang lifestyle, Garrone was adamant that he didn't simply want to make an anti-Camorra diatribe. "I didn't want to judge; judgment isn't interesting," he says. "When the material is this strong, you don't need to comment, or guide the viewer. We tried adding commentary in the editing, and music too, but that just made it too banal. So I thought, just give the audience the material, the facts, and they can draw their own conclusions."
Moreover, in researching the film, Garrone found such conclusions increasingly hard to make. "When you cross the line and go inside that community, it's very hard to tell who's good and who's bad," he says. "It's a big gray zone. I'm from Rome, so I didn't know that world at all. And it's like a whole separate ecosystem, closed off from the rest of the world, so I began to understand how the Camorra runs it all. People inside have no idea what's outside, so they were my first audience. They were behind the monitor all the time."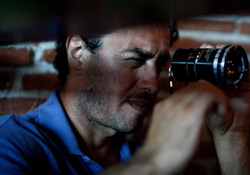 In its headlong immersion into a self-contained world with its own laws and customs, Garrone likens the material both to war reportage and to science fiction, though realism remained his guiding aesthetic throughout. He cites post-WWII neo-realist Italian cinema, epitomized by the work of Roberto Rossellini, as his primary touchstone. "People keep saying 'City of God' to me, but I never thought of that," he says. "Rossellini's 'Paisan' was a big influence. It tells six stories, but there's no judgment; it lets the image talk. It's the most pure cinema."
Meanwhile, Garrone met with surprisingly little resistance from the Camorra itself while making the film. "They knew we were making the movie, but I think they didn't want to give a false idea about themselves or show they had something to hide. I guess they didn't expect it to be so successful. But they love cinema, so I don't know…maybe they're a bit flattered!" He laughs, but then gets serious. "I know the Camorra bosses don't like the movie, because it's not about them. It's about the slaves that serve them."
The "slaves" of which Garrone speaks, of course, are the struggling (and, in some cases, aspiring) Camorra recruits who eke out a meager living on varying rungs of the syndicate's ladder. In adapting Saviano's sprawling source text, Garrone and his co-writers tried to separate five stories to shed light on different aspects of the social hardship in question, but decisions were hard to make. Garrone tells me regretfully about a sixth story that didn't make the final script, centering on a young woman trying to persuade her boyfriend against joining the Camorra.
"We looked for the stories that were the most universal, with contradictions in the characters and their moral point of view," he says. "It was hard. When I read the book, I thought it would be best to make it as a 10-hour series for TV, like Kieslowski's 'Dekalog.' I regret that I couldn't do that. But I think we still made something that speaks to an audience."
What, then, does Garrone hope the audience will hear, given that he's made such a conscious effort to avoid preaching to them? He takes a deep breath, considering carefully before answering. "I hope they can see that there's no glamor in that world," he says eventually. "When you go in there, you see it's such a materialistic world. Everyone's always talking about how rich they're going to be, what they're going to buy. But it's a fantasy, like most mafia movies to them are fantasies."
He pauses again. "I hope a young boy might see that he doesn't want to imitate that. But I'd like him to get that from the atmosphere of the movie, rather than anything that is said."
Our time nearing its close, I manage to ask Garrone if he has another project in the works. "No, I think I need to rest for a bit after 'Gomorrah,'" he says softly. He admits he's thoroughly exhausted — a combination of hard work and jet lag, no doubt. He laughs again. "But when I do another film, I'd quite like to do something light!"