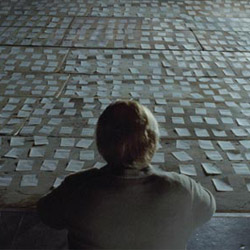 (Note: Because I've been getting some correspondence of confusion, let it be known that categories such as Best Foreign Language Film and Best Documentary contain films released in the U.S. in 2008 that I consider the best of those fields, regardless of Academy rules and regulations regarding country submissions and peripheral qualifications.  This is more of an AMPAS/critics ballot hybrid.  Hopefully that clears it up.)
As the year continues to wind down, I've come to an annual post here at In Contention that proves to be a lot of fun, no matter the quality of the year's product. If I were a member of the 6,000-strong, what would my Oscar ballot look like?
Of course, I'm cheating a bit here.  The way AMPAS balloting works is each branch votes for nominees in their representative categories, while everyone gets a crack at nominating the Best Picture field.  I'm acting as lord of all, super-duper Academy member extraordinaire with nominations in each of the categories we'll see contended on February 22.  I subtract the short film fields, because I just can't comment with any expertise, and as always, I add the category I annually plead for acceptance in the Academy's proceedings: Best Ensemble.
So with that, I give you my list of the year's best in an array of categories.   The first five you know.  More after the jump.  (Check back Friday for a year-end list of superlatives.  And in case you missed it, my top 10 and "best of the year" column here).
Best Picture
"Bolt" (Walt Disney Pictures)
"The Dark Knight" (Warner Bros. Pictures)
"Pineapple Express" (Columbia Pictures)
"Slumdog Millionaire" (Fox Searchlight Pictures)
"Synecdoche, New York" (Sony Pictures Classics)
Best Director
Christopher Nolan, "The Dark Knight"
Matteo Garone, "Gomorrah"
Steve McQueen, "Hunger"
Danny Boyle, "Slumdog Millionaire"
Charlie Kaufman, "Synecdoche, New York"
Best Actor
Robert Downey Jr., "Iron Man"
Michael Fassbender, "Hunger"
Sean Penn, "Milk"
Mickey Rourke, "The Wrestler"
Mark Ruffalo, "What Doesn't Kill You"
Best Actress
Kate Beckinsale, "Nothing But the Truth"
Cate Blanchett, "The Curious Case of Benjamin Button"
Anne Hathaway, "Rachel Getting Married"
Sally Hawkins, "Happy-Go-Lucky"
Angelina Jolie, "Changeling"
Best Supporting Actor
Josh Brolin, "Milk"
Gianfelice Imparato, "Gomorrah"
Heath Ledger, "The Dark Knight"
Eddie Marsan, "Happy-Go-Lucky"
Gary Oldman, "The Dark Knight"
Best Supporting Actress
Penélope Cruz, "Vicky Cristina Barcelona"
Rosario Dawson, "Seven Pounds"
Rosemarie DeWitt, "Rachel Getting Married"
Rebecca Hall, "Vicky Cristina Barcelona"
Samantha Morton, "Synecdoche, New York"
Best Adapted Screenplay
"The Curious Case of Benjamin Button" (Eric Roth)
"The Dark Knight" (Christopher Nolan, Jonathan Nolan)
"Gomorrah" (Maurizio Braucci, Ugo Chiti, Gianni Di Gregorio, Matteo Garrone, Massimo Gaudioso, Roberto Saviano)
"Let the Right One In" (John Ajvide Lindqvist)
"Slumdog Millionaire" (Simon Beaufoy)
Best Original Screenplay
"Bolt" (Dan Fogelman, Chris Williams)
"Pineapple Express" (Evan Goldberg, Seth Rogen)
"Vicky Cristina Barcelona" (Woody Allen)
"The Wrestler" (Robert D. Siegel)
"Synecdoche, New York" (Charlie Kaufman)
Best Animated Film
"Bolt"
"WALL-E"
"Waltz with Bashir"
Best Art Direction
"Appaloosa" (Waldemar Kalinowski; Linda Lee Sutton)
"Cloverfield" (Martin Whist; Robert Greenfield)
"The Curious Case of Benjamin Button" (Donald Graham Burt; Victor J. Zolfo)
"The Fall" (Ged Clarke; Riccardo Pugliese, Cynthia Sleiter)
"Synecdoche, New York" (Mark Friedberg; Lydia Marks)
Best Cinematography
"The Curious Case of Benjamin Button" (Claudio Miranda)
"The Dark Knight" (Wally Pfister)
"Hunger" (Sean Bobbit)
"Let the Right One In" (Hoyte Van Hoytema)
"Vicky Cristina Barcelona" (Javier Aguirresarobe)
Best Costume Design
"Appaloosa" (David C. Robinson)
"Changeling" (Deborah Hopper)
"The Curious Case of Benjamin Button" (Jacqueline West)
"The Dark Knight" (Lindy Hemming)
"The Fall" (Eiko Ishioka)
Best Film Editing
"The Dark Knight" (Lee Smith)
"Milk" (Graham Elliot)
"Slumdog Millionaire" (Chris Dickens)
"Vicky Cristina Barcelona" (Alisa Lepselter)
"Dear Zachary: A Letter to a Son About His Father" (Kurt Kuenne)
Best Makeup
"The Curious Case of Benjamin Button"
"Hellboy II: The Golden Army"
"Synecdoche, New York"
Best Music (Original Score)
"Appaloosa" (Jeff Beal)
"The Curious Case of Benjamin Button" (Alexandre Desplat)
"The Dark Knight" (James Newton Howard, Hans Zimmer)
"The Reader" (Nico Muhly)
"The Wrestler" (Clint Mansell)
Best Music (Original Song)
"O Saya" from "Slumdog Millionaire" (M.I.A., A.R. Rahman)
"Down to Earth" from "WALL-E" (Peter Gabriel)
"The Wrestler" from "The Wrestler" (Bruce Springsteen)
Best Sound Editing
"Cloverfield"
"The Dark Knight"
"Defiance"
"Iron Man"
"WALL-E"
Best Sound Mixing
"Cloverfield"
"The Dark Knight"
"Defiance"
"Let the Right One In"
"WALL-E"
Best Visual Effects
"The Curious Case of Benjamin Button"
"The Incredible Hulk"
"Iron Man"
Best Ensemble Performance
"Che"
"The Dark Knight"
"Milk"
"Slumdog Millionaire"
"Synecdoche, New York"
Best Documentary Feature
"Bigger, Stronger, Faster"
"Dear Zachary: A Letter to a Son About His Father"
"Man on Wire"
"Song Sung Blue"
"Taxi to the Dark Side"
Best Foreign Film
"The Baader Meinhof Complex"
"Gomorrah"
"Let the Right One In"
"Mongol"
"Waltz with Bashir"
Tally:
"The Dark Knight" — 13
"The Curious Case of Benjamin Button" — 8
"Synecdoche, New York" — 7
"Slumdog Millionaire" — 6
"Vicky Cristina Barcelona" — 5
"Gomorrah" — 4
"Let the Right One In" — 4
"WALL-E" — 4
"The Wrestler" — 4
"Bolt" — 3
"Cloverfield" — 3
"Defiance" — 3
"Hunger" — 3
"Iron Man" — 3
"Milk" — 3
"Appaloosa" — 2
"Changeling" — 2
"Dear Zachary: A Letter to a Son About His Father" — 2
"The Fall" — 2
"Happy-Go-Lucky" — 2
"Pineapple Express" — 2
"Rachel Getting Married" — 2
"Waltz with Bashir" — 2
"The Baader Meinhof Complex" — 1
"Bigger, Stronger, Faster" — 1
"Che" — 1
"Hellboy II: The Golden Army" — 1
"The Incredible Hulk" — 1
"Man on Wire" — 1
"Mongol" — 1
"The Reader" — 1
"Song Sung Blue" — 1
"Taxi to the Dark Side" — 1
"Nothing But the Truth" — 1
"Seven Pounds" — 1
"What Doesn't Kill You" — 1