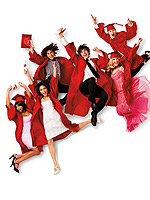 … and 11 of them (count 'em) are from "High School Musical 3: Senior Year." That's over a fifth of the contenders, so I'm guessing the folks at Disney will be pretty mortified if at least one of them doesn't make the final five.
And hell, one of them should. I'm not too snobbish to admit that "HSM3" is an immaculately produced entertainment that succeeds squarely on its own terms, and the same goes for its song score. Those songs are certainly a lot more integral to the film than, say, Peter Gabriel's track for "WALL-E." Credit where it's due.
Otherwise everything that you'd expect to be on the list is there — including the tracks from "The Wrestler," "Slumdog Millionaire" (nice to see "O Saya" listed as well as "Jai Ho") and "Synecdoche, New York," which I know has a lot of fans (myself included) on this site. Elsewhere, I'm happy to see Jenny Lewis' cute ditty for "Bolt" contending alongside Miley Cyrus's composition — though to be honest, I'm just happy to see Jenny Lewis in any context.
Some will be surprised by the exclusion of Jennifer Hudson's "Sex and the City" ballad "All Dressed in Love," but it was closing credits filler, and godawful at that.
As for predictions, one must bear in mind that the Academy has frequently gone its own way in this category over the last few years, nominating songs that weren't on anyone's radar, much less any precursor lists. (Think "Raise It Up" last year, or the French-language "Look to Your Path" in 2005.)
I'm thinking Norah Jones' pretty, easygoing "The Story" from the otherwise ill-fated "My Blueberry Nights" will be right up their alley: throwback sound, credible middle-of-the-road artist, story-serving song from a film with a strong musical theme. Bullseye.
I've also been predicting for months that the rousing title song from "Trouble the Water" will surprise in this category, so I'm chuffed to see it crop up here. It's a terrific hip-hop track with a great story behind it — it's by Kimberly Rivers Roberts, the struggling rap artist whose remarkable personal narrative, overcoming the horrors of Hurricane Katrina, forms the heart of the film. It'd be pretty damn inspiring to see her perform on the Oscar stage come February, and I have a hunch the Academy's music branch (who have become more receptive to hip-hop in recent years) will feel the same way.
Full list after the cut.
By the Boab Tree from Australia
Barking at the Moon from Bolt
I Thought I Lost You from Bolt
Once in a Lifetime from Cadillac Records
The Call from The Chronicles of Narnia: Prince Caspian
It Ain't Right from Dark Streets
Too Much Juice from Dark Streets
Dracula's Lament from Forgetting Sarah Marshall
Drive from Fuel
Gran Torino from Gran Torino
Rock Me Sexy Jesus from Hamlet 2
The Boys Are Back from High School Musical 3: Senior Year
Can I Have This Dance from High School Musical 3: Senior Year
High School Musical from High School Musical 3: Senior Year
I Want It All from High School Musical 3: Senior Year
Just Getting Started from High School Musical 3: Senior Year
Just Wanna Be with You from High School Musical 3: Senior Year
A Night to Remember from High School Musical 3: Senior Year
Now or Never from High School Musical 3: Senior Year
Right Here Right Now from High School Musical 3: Senior Year
Scream from High School Musical 3: Senior Year
Walk Away from High School Musical 3: Senior Year
Di Notte from The Lodger
The Traveling Song from Madagascar: Escape 2 Africa
The Story from My Blueberry Nights
The Code of Life from My Dream
In Rodanthe from Nights in Rodanthe
Nothing but the Truth from Nothing but the Truth
Djoyigbe from Pray the Devil Back to Hell
Waterline from Pride and Glory
Another Way to Die from Quantum of Solace
Up to Our Nex from Rachel Getting Married
Chase the Morning from Repo! The Genetic Opera
Chromaggia from Repo! The Genetic Opera
Zydrate Anatomy from Repo! The Genetic Opera
Broken and Bent from Role Models
Code of Silence from Save Me
Jai Ho from Slumdog Millionaire
O Saya from Slumdog Millionaire
Little Person from Synecdoche, New York
Right to Dream from Tennessee
Forever from They Killed Sister Dorothy
Trouble the Water from Trouble the Water
Down to Earth from WALL-E
The Little Things from Wanted
Count on Me from The Women
The Wrestler from The Wrestler
Sweet Ballad from Yes Man
Yes Man from Yes Man