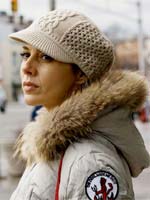 One of the wearying things about the sheer multitude of critics' awards (next up: the Northwestern Topeka Women Film Critics Society awards) is that there is dispiritingly little variety in their picks. I love "Man on Wire" too, but it's hardly the only award-worthy documentary out there. Ditto "Let the Right One In" in the foreign-language field, or various other names we've been hearing an awful lot of this past fortnight.
So it's worth noting when one organisation throws up a different name to stem the unanimous tide in a certain category, and even more so when others latch onto it, forming something of a counter-wave.
Such is the case with Marisa Tomei, whose wonderful performance in "The Wrestler" has garnered no fewer than three critics' prizes (San Francisco, San Diego and Phoenix) in the past 24 hours — an intriguing new mini-trend in a category that has hitherto been pretty much one-way traffic for Penelope Cruz. Correct me if I'm wrong, but I think that makes Tomei and Cruz the two most lauded Supporting Actress contenders, surging ahead of Viola Davis.
Granted, they're not the most high-profile awards, but I'm still pleased by this turn of events — and not just because it shakes things up a little. Tomei's performance in "The Wrestler" is a beautifully judged, lived-in portrayal, an exemplary supporting performance in that she reflects and responds to Mickey Rourke's powerhouse lead turn without ever feeling the need to show off against him.
Flashy scene-stealing performances, like Cruz's admittedly dazzling turn in "Vicky Cristina Barcelona," tend to hog the attention in the supporting races, so I'm glad to see some factions acknowledging Tomei's humbler, more delicate work. She would get my vote.
I can only hope the Academy is paying attention too. For me, it remains one of the last Oscar season's less excusable oversights that, in one of the weakest Supporting Actress races in years, Tomei's blazing performance in "Before the Devil Knows You're Dead" gathered no momentum whatsoever. She's probably used to it: in years past, she's had impressive work in such interesting under-the-radar films as "Factotum" and "Unhook the Stars" go similarly unnoticed.
You've probably gathered by now that I'm a fan. I admit that partly stems from the fact that, at the age of nine, I correctly called her now-notorious "My Cousin Vinny" win, a decision I suspect is only sneered at by people who haven't watched the film since 1992 and have consequently forgotten just what a ballsy, entertaining performance she gives in it. But more importantly, I admire her for shrugging off the (frequently very cruel) jabs and growing into a consistently interesting, risk-taking character actress who is an asset to anything she appears in. Isn't that what more Academy Award winners should do with their clout?
A second Oscar nod in 2001 for "In the Bedroom" was a well-earned vindication. Let's go for a third. Who knows, maybe Penelope Cruz doesn't have this as sewn up as people think she does. Early days yet.
In the meantime, Tom O'Neil enjoys a nice little chat with the thesp here: