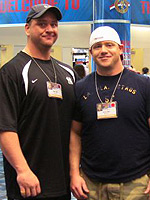 Those of you who dug through my "best of the year" column yesterday know that I was a supporter of Chris Bell's creative, informative and, at times, sobering documentary "Bigger, Stronger, Faster."  In the piece, I wrote that Bell's film succeeded by "cleverly combining the numbers with the priceless power of a family drama."
Well today, that family drama takes on a new shape.  It seems Bell's brother, Mike, a professionalk wrestler featured prominently in the film, was found dead yesterday at his California home.  From Richard Gray of Wrestling News World:
Michael Bell, who was known as "Mad Dog" Mike Bell in the wrestling world, passed away yesterday from unknown causes. Michael was found dead by his roomates [sic] at 2:30 PM yesterday in a sober living place in Orange County, according to his brother Christopher in a prepared statement sent out to members of the media. Bell, who had a history of drug and alcohol problems, was only 37 years old.
The trailer for "Bigger, Stronger, Faster":