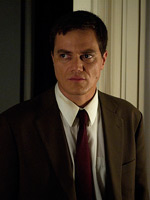 The press release, in part (happy for Shannon, one of the good guys):
The Santa Barbara International Film Festival continues its tradition of honoring the year's standout performers by presenting The 2009 Virtuosos Award to Viola Davis, Rosemarie DeWitt, Sally Hawkins, Richard Jenkins, Melissa Leo and Michael Shannon.  The Award presentation will take place Wednesday, January 28 at the 24th edition of the Fest, which runs January 22-February 1, 2009, it was announced today by SBIFF Executive Director Roger Durling.

The Virtuosos Award was created last year to recognize a select group of actors who have distinguished themselves through performances in film this past year.  Last year's recipients of this inaugural award were Casey Affleck, Marion Cottilard, who went on to win the Best Actress Oscar, James McAvoy, Ellen Page and Amy Ryan.

"Each of these virtuosos have dazzled us with some of the most unexpected, scene-stealing, heart-breaking, uncompromising, fearless and startling performances of the year," Durling commented.