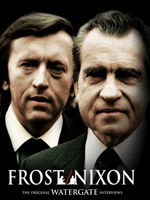 As Ron Howard's "Frost/Nixon" continues to step up during the film awards season this year, it might be worth noting that Liberation Entertainment has gone to the trouble of putting together a hell of a study guide: "Frost/Nixon: The Original Watergate Interviews," currently available on DVD.
Patching together the Watergate portion of Sir David Frost's legendary four-part interview session with the former Commander-in-Chief, the DVD captures a moment in time that was of course expanded to an edge-of-your-seat drama by playwright Peter Morgan two years ago.
One thing that I paid attention to, seeing as I've never taken the time to view these interviews in the past (and certainly wasn't around for their original airing), was Nixon's unmitigated manipulation, reminding me of Robert McNamara's peculiar obssession with control in Errol Morris' sublime "The Fog of War" from 2003.  It also adds a whole other perspective to Frank Langella's performance on stage and screen, clearly an embodiment of Nixon the idea rather than Nixon the man (because a straight impersonation of the man's disposition from the interviews would have been perhaps overly awkward and flat).
The piece runs roughly an hour and a half, with introductory and intermission commentary from Frost himself.  There is also, of course, Frost's book, "Frost/Nixon: Behind the Scenes of the Nixon Interviews," if you really want to be completest.
Here's a trailer for the DVD: