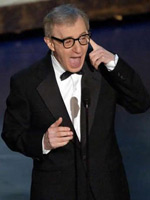 In 1994, Woody Allen's masterful "Bullets Over Broadway" was not really on anyone's charts as a potential Oscar nominee. A very funny film about a playwright who enlists a gangster to help him bring life and reality to his play, it was one of Allen's best works with hysterically funny performances from John Cusack, the great Dianne Wiest (who won an Oscar), Chazz Palminteri, Jennifer Tilly, Jack Warden, Mary Louise Parker, Rob Reiner, Jim Broadbent, and Tracey Ullman. The film premiered here at the Toronto International Film Festival with excellent reviews, but it seemed overshadowed that season by Quentin Tarantino's "Pulp Fiction," without question the movie of the year.
The day the Academy Award nominations were announced, as expected, "Forrest Gump" and "Pulp Fiction" dominated, but in a huge surprise, Allen's film was up in seven categories including Best Director, Best Screenplay, Best Supporting Actor (Palminteri), Best Supporting Actress (Weist and Tilly) and a couple of technical awards.
I have always believed the film to be one of Allen's funniest and finest films, with beautifully created characters and knockout performances throughout. Wiest is miraculous as a manipulative diva seducing the director/writer portrayed by Cusack because she knows it to be the only way to create a better character for herself. Her "don't speak" becomes more and more insane throughout the film.
I have always felt the film was robbed of a Best Picture nomination, likely edged out by "Four Weddings and a Funeral," but it really did not matter as "Forrest Gump would dominate the ceremony.
This year, Allen has directed and written a critically acclaimed film in "Vicky Christina Barcelona," with a powerhouse performance from Penélope Cruz (the Oscar frontrunner), and solid work from Javier Bardem, Rebecca Hall, and Scarlett Johansson (two of them Golden Globe nominees). The film is funny, sexy and dangerous, both vintage Allen, but also a newer, darker Allen, a director evolving.
Is there a chance Woody could end up a surprise nominee for Best Director? It seems a given he will earn a nod for his screenplay, but could the filmmaker edge out another and land a directing nomination?  I think so.
He is certainly beloved by the Academy, nominated over and over again throughout the years despite his turning the otehr cheek when it comes to showing up for their annual celebration, making for a bizarre love affair.  He did, however, show up to give a magnificent stand-up routine in 2002.
Though he suffered through a weak period in the years after "Bullets," leading up to 2005's "Match Point" (his darkest film yet), Allen has always been considered one of the great American filmmakers. His output of one, sometimes two films per year is unequaled by any other major director at work (save perhaps Clint Eastwood as of late), and he has enjoyed a great deal of freedom with the studios, making the films he wants to make, something that has evolved only in the last few years.
Though there is rarely hope for huge box office with an Allen film, they are made on relatively low budgets, come in on time, and there is a degree of prestige with them that has become implied due to his reputation as a director. But in the last few years his films are either bang on, or way off.
There always seems to be one or two wild cards among the nominees for director, generally resulting in nods for filmmakers lacking a Best Picture nominee (the "lone director"), and this year it could once again happen for Allen Woody Allen. What a just award for him that would be.