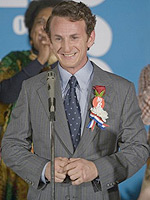 With two of the major critics awards won, actor Sean Penn seems to be headed for his second Academy Award for Best Actor for his brilliant work in "Milk."
Penn's work through the 1980s and 1990s defined him as one of the greatest actors of his generation (if not the best) and certainly on the level with Marlon Brando, Jack Nicholson and early Robert De Niro.  I find it incredible to see him today in "Fast Times at Ridgemont High" and try to connect that actor and character to anything he has done in his career. It gives a very clear example of his seemingly limitless range.
His first Oscar nod came for "Dead Man Walking" in 1995, with only the Independent Spirit Awards giving him the grand prize.  All the others went with Nicolas Cage in "Leaving Las Vegas," a great performance to be sure, but for my money Penn was stronger. Four years later he was something of a surprise nominee for "Sweet and Lowdown," a fine piece of acting, but a kind of out-of-nowhere nomination, as was his third nod for "I Am Sam," which I still struggle with watching; it represents the only time I can "see" Penn acting.
"Mystic River" won him his first and only Oscar, and I stand by it as a stunning example of the craft.  I agree with The New York Times, which declared it one of the great acting performances of all time. Bill Murray was a popular choice that year for "Lost in Translation" and no argument, he would have been a most worthy winner.  But I am pleased Penn won. For me, he captured the anger and rage of the character, as well as the disappointment and hurt over something so precious as a daughter, now lost. There was shame in his eyes for not having protected her, and to make up for that in his mind, he avenges her.
Other nominations should have come for "At Close Range," "Carlito's Way" and "The Assassination of Richard Nixon," but the greatest robbery was just last year when he was snubbed across the board for his film "Into the Wild."
There is love, warmth and graceful humanity to his work in "Milk" that simply has not always been present in his performances through the years. I was stunned to see him smiling so often, filling the screen with positive energy and dare I say…love? Penn's grin became infectious throughout the film. Harvey Milk dedicated his life to giving the people hope, and Penn captures that in his performance.  From the beginning right through to the end, this is a formidable piece of acting.
His greatest competition seems to be Mickey Rourke in "The Wrestler," a great performance, but does Hollywood really want Mickey back? Frank Langella is an actors' staple, known more for his work on the stage, but he is very good in "Frost/ Nixon" and could pose a threat.  Ditto wily old vet Richard Jenkins if he manages a nomination for "The Visitor."
That said, on Oscar night, I think it will be Penn for the win, once again.  And he deserves it. Never has he reached so far, never has so surprised his audience and critics, never has he so engaged viewers and drawn us in to his character making us care so deeply for him