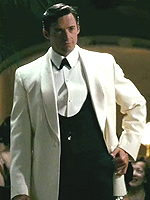 Tim Gray has put together a typical response piece to the Hugh Jackman emcee news over at Variety, but the real interesting bits are as follows:
"[W]e are trying to turn a corner and to give the evening more of a nightclub-party feel — which it once had," said the show's producer Laurence Mark.
And…
"Hugh will entertain the audience throughout the show," [Oscarcast executive producer Bill] Condon said. Jackman's goal, as theirs, is "to keep the show hot throughout, to make it communal and great fun."
I always knew guys like Spacey, Clooney and Jackman made sense as an Oscar host, but I never could really put into words why.  But it's starting to click.  Jackman and the rest, they are perfect "master of ceremonies" types, yes, but they're also the kind of guys you can totally see as a soiree host with the most, bouncing around an intimate gathering and asking, "How's the tuna tar-tar?"  Things like that.  Mark's "nightclub" quote nails it and I have to say, it's nice to see him and Condon taking this so seriously and with the height of class.
Better and better…
Meanwhile, Mary McNamara has a wandering Envelope piece up that reads like a "who should host" story that had to be rethought after the Jackman news hit.  Whether that's true or not, I can't be sure, but it's a tally of stars to fill the hours on the show…I think.