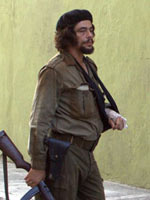 "Nothing if not the movie of the year," wrote Scott Foundas in LA Weekly.
"One of the best films of the year," declared Roger Ebert.
"A great movie," says J. Hoberman of the Village Voice.  "Che is a thing to be experienced."
"The film that places Steven Soderbergh in the ranks of the masters," raved Amy Taubin at Film Comment.
"An experience you won't forget," said Peter Travers of Rolling Stone.  "Benicio Del Toro gives a magnificent performance. No one who cares about organic film acting will want to miss it. He keeps you riveted."
And finally, "Del Toro gives a soulful and charismatic performance," according to A.O. Scott of The New York Times.
So, with all this critical approval, why is Soderbergh's film "Che" not being appropriately considered among the year end critics awards, the Hollywood Foreign Press Association and, therefore, not being discussed as a favored Oscar contender?  Here is a magnificent achievement from a world class filmmaker that breaks down the conventions of mainstream cinema (which he knows all too well) and challenges the audiences with its deliberate pacing and involving character study.  Unhurried, Soderbergh is telling a story in great detail with perhaps the greatest detail being an astounding performance from Del Toro.
I have long championed this film since seeing the four-and-a-half-hour cut at this year's Toronto fest.  But here in December, I find myself struggling to understand why such a masterful film is not a part of the discussion, and moreover, why critics on each coast did not take the opportunity to put it in the conversation with their annual awards announcements.
I am incensed that Soderbergh, already an Oscar-winning director, is not being mentioned as a potential nominee again for this singular achievement. It's certainly not mainstream cinema on any level, and it takes a great investment from the viewer of course, but once the film began, I found myself pulled in by the superb performances and cinematography.  As did a number of esteemed critics.  So what gives?
Surely SAG and the DGA will come forward and recognize this work for what it is?  "Che" was stronger than at least half the Golden Globe nominees. Soderbergh created a masterpiece and so few perople actually know about it.  It's shameful.