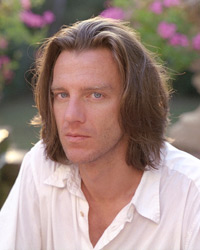 It's a rare achievement, but through the ups and downs the last fortnight's precursors, one film has failed to miss a beat, landing gongs from the New York, Los Angeles and Washington critics, as well as the NBR and the British Independents, not to mention Indie Spirit and BFCA nominations.
That film would be "Man On Wire," James Marsh's crisp, witty and ultimately very moving documentary about Philippe Petit, the charismatic French performance artist who in 1974 committed the so-called "artistic crime of the century" — an illegal tightrope walk between the Twin Towers of the New York's World Trade Center. Despite being what some might have seen as a niche project, it has emerged as one of the most acclaimed films (a Metacritic score of 89 speaks for itself), not to mention one of the top-grossing documentaries, of the year.
Marsh, for one, admits to being a bit taken aback to his film's dizzying trajectory. "It's both a thrill and a surprise," he tells me on the phone, taking a breather from the deadline-driven editing of his new film. "It's a great, hopeful story, but there's such a tragic connotation to those buildings now that I wasn't sure how audiences would respond to it."
By avoiding any 9/11 discussion in the film, however, Marsh was keen to keep the focus on themes of art and ambition, and he believes this is what so many viewers have connected with in the material. "It's a fairytale, really," he elaborates. "A real, true movie premise about achieving the impossible. Philippe is an adventurer, a superhero made flesh and blood. I love that what he did was in a way kind of pointless — it's beauty for its own sake. And I love that audiences appreciate that."
For Marsh himself, an affable, down-to-earth Brit whose startling 1999 debut feature "Wisconsin Death Trip" announced him as a name to watch in documentary circles, the film came as a happy change of pace after his somber foray into fiction filmmaking, 2005's Gael García Bernal-starrer "The King," suffered a muted, occasionally hostile reception. Describing the latter as an "immensely cruel film," he says he welcomed the chance to take on more playful material.
"I really saw this as a heist story, which made it a great deal of fun to film," he explains. "So we employed some quite self-consciously 'heist movie' conceits, starting with that kind of 'Reservoir Dogs'-style flashback structure. I was really rigorous about the structure, and allowing the audience to follow those mechanics."
Indeed, as someone who has worked in both narrative and documentary formats, Marsh isn't averse to melding the two in places — though he's adamant that Petit's story had to be told as a documentary first and foremost. "The moment I met Philippe, I knew no actor could possibly play him. He had to represent himself," he says of the eccentric Frenchman. "But that didn't mean we couldn't make a proper movie out of it."
Marsh's technique therefore involved a number of artfully stylized reconstructions to convey the tension involved as Petit and his crew break into the Towers and plan their mission. Marsh explains that he was aiming for a "comical, silent-movie aesthetic," and makes no apologies for using reconstructions — a contentious issue in some corners of the documentary profession.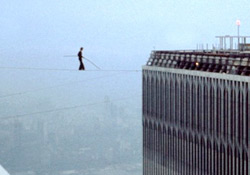 "I've heard some people say that it's having your cake and eating it, which is nonsense," he says. "There aren't set rules to filmmaking. As a filmmaker, I simply do whatever is necessary to make the most interesting experience for the audience. It's stupid to put restrictions on yourself."
Perhaps unsurprisingly, then, Marsh doesn't see all that much difference in the processes of making a narrative feature and a documentary, claiming that both forms ultimately come down to storytelling. "There are different skill sets involved, of course, but at the end of the day, it's just filmmaking," he says. "My job is to put on a good show, whether it's a documentary or a feature."
Returning to the latter, he is currently completing work on "Nineteen Eighty," part of a BBC adaptation of British novelist David Peace's "Red Riding Quartet," a saga of police corruption during the infamous Yorkshire Ripper murders. (Each of the four parts is being filmed by a different director.) "Nineteen Eighty" stars Paddy Considine ("In America," "My Summer of Love"), whom Marsh describes as "extraordinary," before musing that working with actors and working with documentary subjects such as Petit require similar skills.
"When you're working on a project like 'Man on Wire,' you spend an awful lot of time giving people the right circumstances to tell their stories, and making them feel comfortable doing so. It isn't unlike collaborating with actors, in fact."
He pauses.
"A lot of people had wanted to film his story before, but Philippe is very protective of it. He's a bit of a control freak. I think I came with a different approach — I wanted him to collaborate on the film, to be an active part of the process. I think it took him some time to be ready to tell the story."
Another crucial part of Marsh's approach was to eliminate any mention of the Twin Towers' ultimate tragic fate, even though Petit's autobiography, upon which the film is based, addresses the subject. "It was a defining choice for me," he insists. "What am I going to say about 9/11 that hasn't already been said? That's not the story we're telling here. Of course the subtext, and the sadness, is still there, but I trust the audience to complete the story for themselves."
It's a decision that Petit was happy to go with too, Marsh adds. "I think he liked the fact that the film kind of reimagines the buildings as something beautiful and hopeful. We've seen them go down on TV over and over again. I wanted to see them go up."