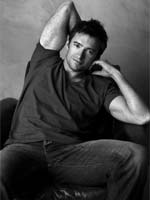 The news is out — the Australian thesp and "Sexiest Man Alive" will host February's 81st Academy Awards.
And why not? He's charismatic, well-liked by all, a bona fide movie star and a genuine showman who has proved his mettle at this short of thing before by hosting the Tony Awards (and winning an Emmy for his pains).
I've always said the Oscar host doesn't necessarily need to be a comedian — it needs to be someone urbane, witty and relatable, who can deliver good material and keep things running at a fair clip. I have no doubt that Jackman can pull that off, and the fact that he's an able song-and-dance man will no doubt come in handy.
Meanwhile, add the fact that more young viewers actually know who he is, and that more female viewers (hell, more male viewers too) will probably tune in for the eye candy, and this fits neatly with the strategy to boost telecast ratings. But it's no dumbing-down move either: Jackman is an old-fashioned Hollywood star who should keep the traditionalists happy.
I've always thought George Clooney would be the ideal choice, while Kris imaginatively plumped for Kevin Spacey a while back, but the choice of Jackman is a clear move in a similar direction. Good call, Bill Condon.