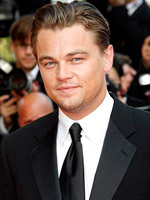 The Hollywood Foreign Press Association tipped its collective hat to a number of the season's hopeful contenders this morning, so it's time to hear some reactions. Generally, a piece such as this is bound to consist of a bunch of gushing, perhaps even boilerplate gratitude from the nominees. And one certainly couldn't fault them for it. But I always enjoy hearing reactions from people whose lives are being changed this time of year, and certainly, those who can't help but feel humbled by the recognition.
What can I say? I'm not a grouch all the time.
Matteo Garrone was first to call this morning. His epic crime saga "Gomorrah" was predictably short-listed in the Best Foreign Language Film category.
"The movie is going so well and everything is such a surprise," he said. "We wanted to give the audience the instrument, the information to understand better how the Camorra organization works on the inside, without any glamorizing, but to try to show the real atmosphere, the real location. We wanted to make a movie that was universal, and this result, I think it proves that we achieved that."
When I interviewed author Roberto Saviano last month, who penned the original book "Gomorrah" is adapted from, he had similar sentiments to offer. The film is one of the year's best, a triumphant piece of work that frankly should be getting more recognition than simple relegation to the foreign film fields, but any notice is fortunate, as Garrone is quick to point out.
Also along the lines of expected nominations was certainly screenwriter Eric Roth's mention for his work on "The Curious Case of Benjamin Button." The film was one of three leading the pack with five nominations, including Best Picture — Drama. But you won't catch Roth sitting back waiting on what the rest of us are anticipating, however.
"I don't think, in life, you expect anything," he told me in an email message. "And if you do, beware of expectations. The ride is the ride." Roth happened to be awake when the nominations came down, despite the hour. He blames it on "pathetic sleep patterns," but between you and me, I'll bet the ole' guy had butterflies.
If the nominations for "Gomorrah" and Roth were anticipated, the filmmakers behind early-year favorite "In Bruges" had to be taken aback when their film landed three nominations, including two lead actor mentions for Colin Farrell and Brendan Gleeson and a truly surprising berth in the Best Picture — Comedy/Musical field.
"It's a testament to Martin McDonagh's film that it is being celebrated at this time," producer Graham Broadbent said in a statement. "I'm very happy Colin and Brendan's brilliantly comedic and moving performances have stayed with people."
Farrell was similarly caught off guard by the film surviving the year and, indeed, the fall awards product glut enough to pop up this morning. "I'm really proud to be part of this story and just so pleasantly surprised that the Hollywood Foreign Press carried it with them from March to now," he said. "This is Martin's nomination, because he was and is this film. I've gotten worse calls in the wee hours of the morning. A lovely surprise at 5:45am. I'm so happy for Brendan Gleeson as well."
Sally Hawkins is another name popping up surprisingly this week. The conversation on her lovely performance in Mike Leigh's "Happy-Go-Lucky" had dwindled somewhat until the Los Angeles and New York film critics honored her with their Best Actress superlatives.
"I cannot describe how I feel," Hawkins said. "It's such an honor to be in the same category as Meryl Streep and Emma Thompson. They are great, iconic women that I've watched for years – they have definitely inspired and influenced me in my decision to pursue acting. These past couple of days have been a whirlwind but I am feeling quite lucky and blessed at the moment."
In case you missed it, be sure to check out Guy Lodge's interview with Hawkins here.
And finally, speaking of surprises, the ultimate twist of fate had to be the recognition for Sam Mendes's "Revolutionary Road," which had been virtually shut out of the critics awards and nominations announcements of the past week. The Hollywood Foreign Press Association breathed serious wind into the film's sails as Paramount Vantage tries to find its campaign stride this Oscar season.
"We are all delighted and honored that the Hollywood Foreign Press recognized the film in such a generous way," Mendes said in a statement. "This was a labor of love for all of us and to see it being received in such a positive way is very gratifying."
"Road" star Leonardo DiCaprio is another contender whose name has been conspicuously absent from the week's festivities, despite giving one of his best performances to date in the film. Always quick to shine the light elsewhere, he took a moment this morning to recognize the author of the film's source material.
"Richard Yates is the real star of 'Revolutionary Road,'" he said. "For far too long, his writing didn't receive the credit it deserves. I hope that the film goes a long way towards fixing that mistake."
DiCaprio also avoided too much attention on his own recognition by spreading the love to his fellow nominees. "Congratulations to Kate Winslet and Sam Mendes on their nominations, as well as the entire cast and crew, who put their heart and soul into this film," he said. "They all deserve an equal amount of recognition for its success."
For her part, Winslet, nominated twice this morning for both "Revolutionary Road" and "The Reader," could not contain her excitement.
"I can't believe it," she exclaimed.  "I am so honored and proud to be included this year, in the company of all these incredible women and alongside my on-screen and off-screen husbands.  And to be a part of two of the best picture nominees…I am very happy today!"
The 66th Annual Golden Globe Awards will be held Sunday, January 11 at the Beverly Hilton Hotel in Beverly Hills.