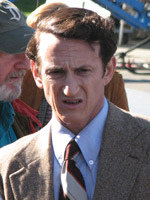 Well, I said yesterday one should always expect oddities with the Golden Globes … but even with that in mind, they never fail to pull out some genuine "WTF" moments.
Tom Cruise's goofy Best Supporting Actor nod for "Tropic Thunder" may have been the most eccentric revelation of the morning, but surely the most significant shocker is the absence of "Milk" — presumed by many to be "Slumdog Millionaire"'s chief rival in the Oscar race — in the Best Picture (Drama) category.
The shut-out proved even more blatant when neither Josh Brolin nor James Franco, who have been making healthy progress in the precursors, landed in the Supporting Actor race. Still processing that one — right now, I can't think of a suitable theory to explain its absence. (But hey, at least Franco landed a left-field comedy-category nod for "Pineapple Express" … I think I know one guy who will be stoked with that.)
The producers of "Slumdog Millionaire" will no doubt be thrilled by the news, as will those of "The Curious Case of Benjamin Button," which claws back some momentum after taking a knock in this week's precursors. In an unusually spread-out slate, "Button" and "Frost/Nixon" lead the pack of Best Picture nominees, with 5 nods apiece — I must admit I never expected the latter to be a field leader. (Meanwhile, in yet another of the morning's oddities, their tally is equalled by the Best Picture-omitted "Doubt.")
Some will be surprised by the failure of "The Dark Knight" to land Picture or Director nods, though I personally didn't see the film the registering that strongly with the Foreign Press.
On the other hand, I naively failed to foresee that Harvey Weinstein would work his magic once more on the organisation — Kris' prediction of a strong showing for "The Reader" was right on the money. Meanwhile, despite whispers that the HFPA wasn't all that keen on "Revolutionary Road," the nominations tell a different story. The nod for Sam Mendes is one I find particularly surprising; Paramount Vantage will no doubt heave a huge sigh of relief after a terrible precursor week that saw the film blanked in the Broadcast Film Critics' nominations.
Given their taste for "Revolutionary Road," one might have expected the film's breakout star Michael Shannon to land a nod. That, however, would be naively ignoring the Globes' affinity for famous names, which were out in full force today — most notably in that bizarro Cruise nod, but also in the expected Brangelina coronation, and a nomination for Ralph Fiennes in "The Duchess" that I'm sure few saw coming.
Ironically, the star-fucking was played down in the categories where it is usually most rampant: the Comedy/Musical races. Rebecca Hall's Best Actress nod for "Vicky Cristina Barcelona" is a delightful surprise, given that many guessed her Globe-favoured (but less acclaimed) co-star Scarlett Johansson would crop up in her stead. (I'm also sure I'm not the only one grateful they resisted the starry charms of Sarah Jessica Parker in that category.)
Meanwhile, my fellow "In Bruges" fans can cheer a superb showing, with recognition not just for Colin Farrell's performance (which I saw coming), but for Brendan Gleeson and the film itself (which I certainly didn't).
Also writing thank-you notes to the Foreign Press will be Kristin Scott Thomas' team — after failing to make any inroads in the precursors, she rallies with a well-deserved Best Actress (Drama) nomination, while "I've Loved You So Long" finds itself in play in the Foreign Language race. Among those she squeezed out are indie darling Melissa Leo (who was never likely to find favour with the HFPA, in my opinion) and Cate Blanchett (whose omission will no doubt stun a lot of pundits). Might I add that this was one category I called 5/5. Hey, I'm not going to get much else right this season … let me gloat.
Finally, and I only just noticed this, the no-show of Clint Eastwood in Best Actor (Drama) is a bit of a shock … and I suspect a relief to many. At the Globes, sometimes star power only gets you so far. One would have assumed this clears the way for Penn, but given their indifference to his film, who can tell?