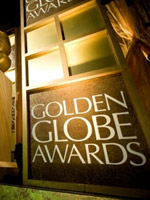 Best nominations of the morning: Tom Cruise, Best Supporting Actor in "Tropic Thunder" and James Franco, Best Actor, "Pineapple Express."  I'm also happy to see some love for Rebecca Hall.  Nice.
The Hollywood Foreign Press Association, as they tend to do, went their own way this morning with a list of nominations that will certainly shake the landscape of this year's film awards season, but I don't expect a huge impact where Oscar is concerned.
"The Reader" is still a marginal contender at best (the studio is even pulling advertising in some outlets), while "Revolutionary Road" got a much-needed (and frankly surprising) shot in the arm.  "Milk," meanwhile, was left with just one nomination for Best Actor.  Odd.
Guy will be working up a lengthy reaction in due time but I'm going to duck out for the time being.  The nominees:
Best Picture (Drama)
"The Curious Case of Benjamin Button"
"Frost/Nixon"
"The Reader"
"Revolutionary Road"
"Slumdog Millionaire"
Best Picture (Comedy/Musical)
"Burn After Reading"
"Happy-Go-Lucky"
"In Bruges"
"Mamma Mia!"
"Vicky Cristina Barcelona"
Best Actor (Drama)
Leonardo DiCaprio, "Revolutionary Road"
Frank Langella, "Frost/Nixon"
Sean Penn, "Milk"
Brad Pitt, "The Curious Case of Benjamin Button"
Micky Rourke, "The Wrestler"

Best Actor (Comedy/Musical)
Javier Bardem, "Vicky Cristina Barcelona"
Colin Farrell, "In Bruges"
James Franco, "Pineapple Express"
Brendan Gleeson, "In Bruges"
Dustin Hoffman, "Last Chance Harvey"
Best Actress (Drama)
Anne Hathaway, "Rachel Getting Married"
Angelina Jolie, "Changeling"
Meryl Streep, "Doubt"
Kristin Scott Thomas, "I've Loved You So Long"
Kate Winslet, "Revolutionary Road"
Best Actress (Comedy/Musical)
Rebecca Hall, "Vicky Cristina Barcelona"
Sally Hawkins, "Happy-Go-Lucky"
Frances McDormand, "Burn After Reading"
Meryl Streep, "Mamma Mia!"
Emma Thompson, "Last Chance Harvey"
Best Supporting Actor
Tom Cruise, "Tropic Thunder"
Robert Downey Jr., "Tropic Thunder"
Ralph Fiennes, "The Duchess"
Philip Seymour Hoffman, "Doubt"
Heath Ledger, "The Dark Knight"
Best Supporting Actress
Amy Adams, "Doubt"
Penelope Cruz, "Vicky Cristina Barcelona"
Viola Davis, "Doubt"
Marisa Tomei, "The Wrestler"
Kate Winslet, "The Reader"

Best Director
Danny Boyle, "Slumdog Millionaire"
Stephen Daldry, "The Reader"
David Fincher, "The Curious Case of Benjamin Button"
Ron Howard, "Frost/Nixon"
Sam Mendes, "Revolutionary Road"
Best Original Score
"Changeling"
"The Curious Case of Benjamin Button"
"Defiance"
"Frost/Nixon"
"Slumdog Millionaire"
Best Screenplay
"The Curious Case of Benjamin Button"
"Doubt"
"Frost/Nixon"
"The Reader"
"Slumdog Millionaire"

Best Foreign Film
"The Baader Meinhof Complex"
"Everlasting Moments"
"Gomorrah"
"I've Loved You So Long"
"Waltz with Bashir"

Best Animated Feature
"Bolt"
"Kung Fu Panda"
"WALL-E"
Best Original Score
"The Curious Case of Benjamin Button"
"Changeling"
"Defiance"
"Frost/Nixon"
"Slumdog Millionaire"
Best Original Song
"I Thought I Lost You" from "Bolt"
"Once in a Lifetime" from "Cadillac Records"
"Gran Torino" from "Gran Torino"
"Down to Earth" from "WALL-E"
"The Wrestler" from "The Wrestler"