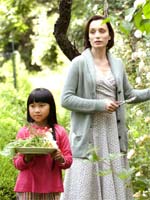 As ever, this morning's Golden Globe announcement provided a mixed bag of talking points, with some pleasantly zany curveballs at one end of the scale, and a couple of yawnsome autopilot nominees at the other. Like most awards bodies, they're never going to get it completely right: for every inspired inclusion or omission there's an equally perplexing one. (Ralph Fiennes for "The Duchess," anyone?)
But looking at the nominees from a bargaining perspective — tempering, for example, my disappointment that Richard Jenkins didn't make the Best Actor cut with the knowledge that Clint Eastwood didn't either — I've come to the conclusion that I'm happier with them than I expected to be.
With that in mind, I offer below a couple of my own personal highlights and low points of the nominee list (though, given that I haven't seen "Milk" yet, I'm leaving off that heated topic), followed by some way-too-early, subject-to-change predictions. Feel free to supply your own.
THE GOOD
Comedy rules: The comedy/musical categories are usually a dumping ground for filler nominees in less-than-memorable mainstream products, and previously expressed fear that this year, given the lack of high-profile contenders, they could make some really desperate stretches this year. Happily, the HFPA showed genuine resourcefulness by dipping into indie waters to celebrate the oddball wonders of "Happy-Go-Lucky" and "In Bruges," while singling out the superb, less-discussed likes of Rebecca Hall and Brendan Gleeson for recognition. With classy, intimate works like "Vicky Cristina Barcelona" and "Last Chance Harvey" joining the mix, the resulting set of nominees is, dare I say it, considerably fresher than their dramatic counterparts. How often can you say that?
Marching to their own drum: Sure, they can be easily bought on occasion ("The Reader"'s impressive haul, in the face of increasingly withering reviews, is testament enough to that). But I like the fact that every year, the Foreign Press also pull out a couple of nominees that nobody else could have dreamed up. Whether you like the decision or not, you have to admit it takes chutzpah to nominate Tom Cruise for "Tropic Thunder." No one was talking about him, no one was campaigning for him … this was a decision they made entirely on their own. The nod for Ralph Fiennes was similar unobligated, unpressured and unanticipated — and while that's a choice I really disagree with, I salute their inclination to drift from the herd on occasion.
Coming to the rescue: If I were to single out one name whose nomination today made me more relieved than any other, it would have to be Kristin Scott Thomas. After a disappointing start to the American awards season, which saw her mesmerizing work in "I've Loved You So Long" disgracefully snubbed by the BFCA while failing to pick up traction in the critics' awards, it was vital that she made the cut here. And make it she did, beating to the punch such hotly fancied contenders as Cate Blanchett, no less. She still she faces considerable obstacles on the road to an Oscar nomination — in addition to starring in a small, French-language film, her current Broadway engagement restricts her personal campaigning abilities — so kudos to the Globes for prioritizing performance over publicity in this instance. Take note SAG.
THE BAD
Playing it safe: As they took some bold risks in the comedy categories, it seems the trade-off was a largely vanilla selection in the drama categories. Tasteful prestige dramas rule the roost here, and while there are no doubt some fine films in contention, I can't help wishing the HFPA had rocked the boat a little here. I'm hardly the biggest champion of "The Dark Knight" in these parts, but it (or, in a perfect world, "The Wrestler") would have made a considerably edgier, more relevant nominee than "The Reader" or "Frost/Nixon." Meanwhile, the perfect match-up between the Best Picture (Drama) and Best Director nominees betray a conservative (or just plain lazy) streak in the voting. Comedies are hard to direct too, as is any other genre — would it be so bad to shake things up with Mike Leigh or Christopher Nolan? Dig deeper, Foreign Press.
Original is out: The unadventurous trend continued through to the Best Screenplay category, one than often presents problems in its merging of original and adapted work, but this year found a particularly egregious solution: to simply ignore original screenplays entirely, with adaptations occupying all five slots. I'm not sure if this is a first (though if some diligent researcher feels like doing the legwork, do let us know), but if so, it's not a particularly commendable one. Granted, it hasn't been a vintage year in the original field, but I can't be the only one who feels there is more writerly verve and innovation in the likes of "Happy-Go-Lucky" and "Vicky Cristina Barcelona" than there is in Peter Morgan's or John Patrick Shanley's slavishly faithful translations of their own respective plays.
Seeing stars: A perennial problem with this particular ceremony, the rampant starfucking was thankfully tamed in some areas (Sarah Jessica Parker was mercifully passed over, while my heavy-hearted wildcard bet on Beyonce Knowles didn't pan out either), but it was in transparent evidence elsewhere. You'd be hard pressed to find a critic who finds Angelina Jolie's performance in "Changeling" more noteworthy than Melissa Leo's breakout turn in "Frozen River," but the sad truth is that Leo never stood a chance against the younger, hotter, infinitely more famous woman. Same story with Jolie's other half, one of the more glamorous attractions blocking the superb Richard Jenkins' way in the Best Actor (Drama) category. Meanwhile, the perversity of leaving out Michael Shannon, the most consistently praised element in multiple nominee "Revolutionary Road," is easily explained when you look at the big guys taking up the Supporting Actor slots. The HFPA is no country for character actors.
And with that, I offer my off-the-cuff predictions, with the disclaimer that I truly don't know what to make of some races at the moment. In a month's time, things might have come into focus a bit… we'll regroup on the subject then.
MY PREDICTIONS (subject to revision at a later date)

Best Picture (Drama): "The Curious Case of Benjamin Button"
Best Picture (Comedy/Musical): "Vicky Cristina Barcelona"
Best Actor (Drama): Mickey Rourke, "The Wrestler"
Best Actress (Drama): Kate Winslet, "Revolutionary Road"
Best Actor (Comedy/Musical): Javier Bardem, "Vicky Cristina Barcelona"
Best Actress (Comedy/Musical): Sally Hawkins, "Happy-Go-Lucky"
Best Supporting Actor: Heath Ledger, "The Dark Knight"
Best Supporting Actress: Penelope Cruz, "Vicky Cristina Barcelona"
Best Director: Danny Boyle, "Slumdog Millionaire"
Best Screenplay: Simon Beaufoy, "Slumdog Millionaire"
Best Foreign Language Film: "I've Loved You So Long"
Best Animated Film: "WALL-E"
Best Original Score: Alexandre Desplat, "The Curious Case of Benjamin Button"
Best Original Song: "The Wrestler" from "The Wrestler"