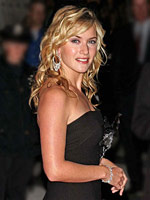 Well the consistent snubs for Kate Winslet's performances this week (other than a brief mention by the BFCA for her work in "The Reader") should go down a little easier for the actress as it seems she'll be receiving an award at next month's Santa Barbara Film Festival for her outstanding career so far.
The press release, in part:
"I have had a cinematic crush on Kate Winslet since her first movie," gushed SBIFF Director Roger Durling.  "She's my favorite actress of all time…and she will always have a home here at the festival!"

Since her last visit to Santa Barbara, Winslet has been in numerous films including Little Children, for which she received her fifth Oscar nomination, All The King's Men, Flushed Away and The Holiday.  Winslet continues her sterling career with two critically-acclaimed performances in Sam Mendes' "Revolutionary Road," marking a screen reunion with her Titanic co-star, Leonard DiCaprio, and Stephen Daldry's post WWII drama, "The Reader," opposite Ralph Fiennes.

The Montecito Award was created in recognition of a performer who has given a series of classic and standout performances in his/her career.