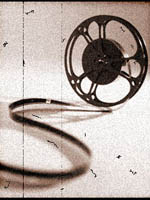 Alright, so last year, the NYFCC announcement came down close to 10:00 a.m. PST, so I expect in the next few hours we'll have some answers.  You can check on the group's official site to watch the winners clock in as announced (unless something changes this year), but for now, I'll wager a couple of guesses.
The way the New York critics vote, with various in-fighting and films left standing eventually crowned victor (which leads to weird Best Picture choices like "United 93" and "Out of Sight"), this group can be an erratic one to predict.  I'm not sensing a "Slumdog" victory or major love for "Milk," but I think this is the place where, say, "Rachel Getting Married" or even "The Visitor" can claim a piece of the critics awards pie.
That said, I'm going to guess way out on the fringe and say "The Wrestler," with a win for Mickey Rourke to accompany it.  Maybe Aronofsky can even slide in for Best Director, or perhaps that's where Jonathan Demme will get his precursor due.  For actress, I anticipate Anne Hathaway, but a win for Melissa Leo or Kristin Scott Thomas wouldn't surprise me either.
Anyway, take a crack at it and give us your NYFCC predictions below.