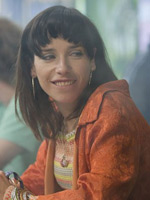 The Best Picture victory for "Milk" is going to be the lede for most people as far as today's New York Film Critics Circle awards is concerned, but the bigger story is "Happy-Go-Lucky," which finds itself right back in the thick of the Oscar conversation.
The group handed Mike Leigh and Sally Hawkins honors for Best Director and Best Actress respectively for the film.  This marks the second award in as many days for both.  Leigh won the screenplay award yesterday with the Los Angeles Film Critics Association and Hawkins was also singled out for her performance.
But back to "Milk," I was a little surprised to see the film do so well here, also taking honors for Best Actor (Sean Penn) and Best Supporting Actor (Josh Brolin).  It's a slightly more populist opinion from a crowd that likes to be fringe, though Jenny Lumet's screenplay win for "Rachel Getting Married" was anything but a shock.
Penelope Cruz continued her expected steamroll through the Oscar season with yet another supporting actress win (she won with LAFCA as well), while "WALL-E" surprised no one with a victory as Best Animated Film.  Meanwhile, Anthony Dod Mantle, who came in as a runner-up with the L.A. critics for his work behind the camera on "Slumdog Millionaire," happened to walk away with the honor today.
"Man on Wire" took honors for Best Documentary, while "4 Months, 3 Weeks and 2 Days" won for Best Foreign Film.
It was yet another day of snubs for "Revolutionary Road," which turned up with zero nominations from the BFCA and no mentions from the L.A. critics.  And a film that has suddenly become a real threat as the first major precursors have begun to arrive, "The Dark Knight," hit an expected roadblock with the Gotham crew, finding no love in any category.  Slightly more surprising, however, is the lack of recognition for Darren Aronofsky's "The Wrestler."  But I have a hunch it was in the hunt throughout, maybe just coming up short in this category or that.
(Full list of winners after the jump.)
Best Picture: "Milk"
Best Director: Mike Leigh, "Happy-Go-Lucky"
Best Actor: Sean Penn, "Milk"
Best Actress: Sally Hawkins, "Happy-Go-Lucky"
Best Supporting Actor: Josh Brolin, "Milk"
Best Supporting Actress: Penelope Cruz, "Vicky Cristina Barcelona"
Best Screenplay: Jenny Lumet, "Rachel Getting Married"
Best Animated Film: "WALL-E"
Best Documentary: "Man on Wire"
Best Foreign Film: "4 Months, 3 Weeks and 2 Days"
Best First Film: Courtney Hunt, "Frozen River"
Best Cinematographer: Anthony Dod Mantle, "Slumdog Millionaire"