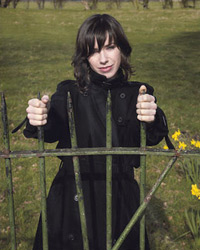 "We didn't necessarily set out to create someone as perpetually sunny as Poppy," says Sally Hawkins of her radiant performance in Mike Leigh's "Happy-Go-Lucky," which is currently making waves in the awards race. "But Mike was very dismissive of doing anything maudlin or moody with this project. So the optimism came early on for her. It's like trying on different skins. And this skin just fit."
Spoken in a breezy, unassuming tone, it strikes me as a statement — equal parts pragmatic and eccentric — that could as easily have some from the mouth of Poppy herself, the cheery North London schoolteacher who forms the delightful center of Leigh's latest perceptive study of British social mores.
Indeed, when I first encounter Hawkins in the top-floor café of a West End bookshop, dressed in a somewhat Poppy-esque ensemble of emerald-green cardigan and flowing tie-dye skirt, it's difficult not to be reminded at least a little of her character. Hawkins is certainly calmer and a little softer in person, but her easy-flowing conversation, accompanied by increasingly wild hand gestures, reveals something akin to Poppy's humor and generosity of spirit.
"I'm nothing like as extroverted as she is," she says, smiling broadly.  "But how many people are?  If anyone says they see even a little of me in Poppy, or vice versa, I take that as the hugest compliment, because she just has life worked out. It's not as if she's negating that it's hard. She just finds a way to deal with it, and finds a way to flow with people. She's an extraordinary person. I think I learned a lot from her."
It's one of several occasions where Hawkins refers to Poppy as a separate, living individual.  It's an understandable perspective, perhaps, after spending 10 whole months (six of rehearsal, four of filming) building the character through Leigh's famous workshop method of script construction, whereby each character is created in isolation, with the narrative gradually forming around them. It might sound like a loose technique to some, though Hawkins is quick to explain that it's anything but.
"Every single beat, breath, and gesture is accounted for," she says. "It may be a collaboration, but Mike's vision is incredibly tight. He plots everything so precisely. I don't know how his brain works.  He can form entire essays in his head. He's a genius, simple as that."
She likens the process to that of weaving an intricate tapestry, with many individual parts coalescing into a more complete narrative in the finished product: "You start with nothing, and each day you add another invisible layer, another tic, another quirk, and eventually a fully formed person emerges. The tiniest parts translate, and you begin to pick up an energy for that person. Poppy's buoyancy was there from early on, so I just had to ride it. It's very hard to explain — a bit of a spell, really."
It's a daunting, risky undertaking for an actor, and Hawkins doesn't mind admitting to feeling some butterflies in the process. "The actor part of me does let neurosis drop in from time to time, but you just have to beat it away. If you know the character deeply enough, you can put all your focus on what's going on in the character's life at that moment. Mike can guide you to an extent, but in the end, it's left to you and the gods — and you just jump off."
She also acknowledges that the pressure upon her and her fellow actors pales in comparison to that felt by her director. "It's terrifying for Mike!" she exclaims. "But that's the person he is…he thrives on it." She recalls meeting Leigh near the end of the two- week hiatus between rehearsal and shooting, during which time the director retreated, hermit-like, to revise his "script," which at that point had no defined ending.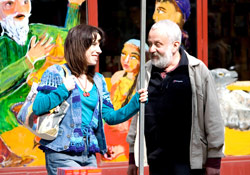 "I went up to his tiny little office, and there was just paper everywhere," she laughs. "And in the middle of it all was Mike, hair on end, his beard out of control, looking like he hadn't slept for 10 days. But there were hundreds of drawings stuck to the wall, in sequence; he'd storyboarded the entire film in stick figures, down to the last minute detail. And that essentially was our script." He later bound the drawings and gave them to Hawkins as a book, which she describes as resembling "the inside of his head."
The clear affection with which she regards Leigh is evidence of the tightly-knit company of actors and craftsmen associated with his films — she counts co-stars Alexis Zegerman and Eddie Marsan (as well as former Leigh alumni, such as rising British TV star James Corden) as close personal friends, and describes the filmmaker as "enormously protective" of his actors.
Following supporting roles in "All or Nothing" and "Vera Drake," this is in fact her third go-round with the filmmaker, though despite the film's comparative lightness, she found "Happy-Go-Lucky" their most challenging collaboration yet. "There was a much clearer set of rules with 'Vera Drake,'" she says. "The story was more defined from the outset, which made it a different, faster experience. There was more rooting around in the dark this time, I think, because it's a more organic kind of story."
Part of that "rooting around" involved what she refers to as "taking Poppy out": socializing in public while fully in character. It was a revelatory experience for the actress, as she describes in an anecdote where she and her co-stars went shopping on Oxford Street, London's ever-bustling retail mecca.  "I had to talk to complete strangers as Poppy would," she says, "which is something I'd never do myself. But the thing I learned is that, when someone is that open, people actually want to engage with you. I got into so many conversations it would take us 30 minutes just to get out of a shop!"
The response surprised her, not least because she feared that many would find Poppy's persona abrasive (as indeed some viewers have). "We took her out on the streets of Soho, and I thought she'd end up getting smacked about the head," she says. "But the people I met seemed to respond to her."
She is aware that the character is a polarizing one, but she disagrees with those who deem the character overly flighty. When I venture that Poppy's optimism represents less a denial of reality and more a carefully-thought life decision, she agrees. "That's exactly it," she enthuses. "She's made an intelligent, informed choice to be happy. It's not a front for anything; she's just honest about who she is. I know some people find that irritating. Poppy knows it too. But I know I would rather stick with people like her. She is who she is."
Hawkins supports this statement with another anecdote. After a day of rehearsal, she left Leigh's office in full costume — one of Poppy's typically brash outfits paired with the trademark gaudy boots that so infuriate her driving instructor in the film. "The second I got out on the pavement, these two women passed and stared at me, and the one said quite loudly, 'What the hell is she wearing?'" She rolls her eyes. "And I was about to explain, and then I thought, no, Poppy would choose simply not to hear that voice. That's what makes her so glorious. Nothing is wrong for her."
The talk moves to her future projects, including "The Roaring Girl," a planned biopic of Bernadette Devlin, the woman who became, at 21, Northern Ireland's youngest female Member of Parliament. Hawkins welcomes the prospective change of pace, though she admits to feeling overwhelming responsibility in taking on what she describes as an "epic character."
At the moment, however, she's finishing work on the auspiciously titled "Happy Ever Afters," a project she excitedly describes as "a genuine, all-out, unashamed romantic comedy," citing Peter Bogdanovich's 1970s screwball output as a reference point. (She's certainly suffered for her art in this case, breaking her collarbone while performing stunts for the film.)
Meanwhile, she's endearingly disarmed by the publicity and awards attention she is receiving for "Happy-Go-Lucky" — she describes the Oscar buzz for her performance as an "impossibly mad, gorgeous thing, whether it happens or not" — but relies on work to keep her grounded. "When I'm at the Berlin Film Festival, or New York, or wherever, I just think about the first day of rehearsal, in a freezing bleak room in Tufnell Park with just Mike there." She laughs. "You know you're alive when you're in a Mike Leigh film."