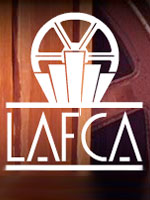 Alright, the BFCA announcement has come and gone.  Little surprise other than some omissions.  So maybe the Los Angeles critics will feel the need to get behind a few ponies, as they do annually (Vera Farmiga in "Down to the Bone," handing "There Will Be Blood" their Best Picture prize last year when Oscar buzz was dwindling, etc.)
I'm actually expecting a "Slumdog" victory with maybe some surprises in Best Actress or Best Supporting Actress.  I have a hunch Christopher Nolan will nab the Best Director prize, giving him, and the film, some much-needed Oscar legitimacy.  And, as David Poland rightly noted last week, that "Dark Knight" soiree was indeed packed with LAFCA members.
Sasha Stone over at Awards Daily corraled the predictions of a few of us prognosticative bozos.  She also gives a space for you to throw some things at the wall to see what sticks.  But for now, it's all a waiting game.  Last year the announcement didn't land until around 7:00 p.m. PST, so it'll be a while.  But have at it in the comments section below if you want to guess at the winners.