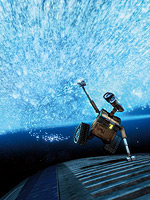 Shocking.  "WALL-E" is officially the most overrated film of the year, but that having been said, this is one hell of a ballsy move on the part of the L.A. film critics (whose vote came down a lot earlier than I expected).
I correctly anticipated a Sally Hawkins victory in the lead actress category, which will do wonders for her Oscar hopes.  The group also went with Mike Leigh for his "screenplay."  It makes sense as "Happy-Go-Lucky" was a film dwindling on the Oscar landscape and this group, no matter how much a couple of blowhards within their ranks claim otherwise, like to shine their light in the direction of films they want to find the right traction this time of year.  Eddie Marsan also came in as a runner-up for Best Supporting Actor.
I'm very excited to see Steve McQueen grab the group's New Generation award.  I'm happy to see some outlets already calling "Hunger" the best of the year.  When I saw the film at this year's AFI Fest, I knew I was in the hands of a new talent.  I'm glad the LAFCA agrees.
I also have to tip my hate to the group for recognizing Mark Friedman's brilliant design work in "Synecdoche, New York," my personal choice for the year's best in the category.  And I'm glad to see that lenser Anthony Dod Mantle was so close to a win for his wonderfully inventive work in "Slumdog Millionaire."
But back to "WALL-E."  I just cannot understand the love-fest for this film, a position I'm sure plenty of movie-goers find themselves in regarding "The Dark Knight" (which came in as a runner-up for Best Picture, beating out contenders like "Slumdog Millionaire" and "The Curious Case of Benjamin Button").  But regardless of my taste, it's worth pointing out that the only three films to win the LAFCA award for best Picture and fail to secure an Oscar nomination for same were "Leaving Las Vegas" in 1995, "About Schmidt" in 2002 and "American Splendor" in 2003.  You have to go all back to "Do the Right Thing" in 1989 for the last example and it's only happened a total of six times in 32 years.
Crazy.
The winners (via Variety) after the jump.
Best Picture: "Wall-E"
Runner-up: "The Dark Knight"
Best Director: Danny Boyle, "Slumdog Millionaire"
Runner-up: Christopher Nolan, "The Dark Knight"
Best Actor: Sean Penn, "Milk"
Runner-up: Mickey Rourke, "The Wrestler"
Best Actress: Sally Hawkins, "Happy-Go-Lucky"
Runner-up: Melissa Leo, "Frozen River"
Best Supporting Actor: Heath Ledger, "The Dark Knight"
Runner-up: Eddie Marsan, "Happy-Go-Lucky"
Best Supporting Actress: Penelope Cruz, "Vicky Cristina Barcelona" and "Elegy"
Runner-up: Viola Davis, "Doubt"
Best Screenplay: Mike Leigh, "Happy-Go-Lucky"
Runner-up: Charlie Kaufman, "Synecdoche, New York"
Best Foreign Language film: "Still Life"
Runner-up: "The Class"
Best Documentary: "Man on Wire"
Runner-up: "Waltz With Bashir"
Best Animation: "Waltz With Bashir"
Best Cinematography: Yu Lik Wai, "Still Life"
Runner-up: Anthony Dod Mantle, "Slumdog Millionaire"
Best Production Design: Mark Friedberg, "Synecdoche, New York"
Runner-up: Nathan Crowley, "The Dark Knight"
Best Music/Score: A.R. Rahman, "Slumdog Millionaire"
Runner-up: Alexandre Desplat, "The Curious Case of Benjamin Button"
New Generation Award: Steve McQueen, "Hunger"
Douglas E. Edwards independent/experimental film/video: James Benning, "RR" and "Casting a Glance"