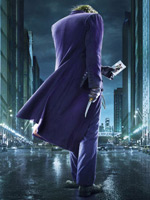 Every year I contribute to the Eye on the Oscars features issues at Variety, something I started long before my short-lived blogging stint at the trade last year.  We always come up with a list of contenders for each category to profile as the season pushes forward and sometimes the nature of longer leads makes some picks a bit out-of-date come publication time (i.e., James Cromwell on this year's supporting actor list).
One actor that was always going to be there was Heath Ledger, whose brilliant turn in "The Dark Knight" has become the stuff of legend.  I put a bug in my editor's ear early on that, if it was in the cards, I really wanted the chance to tackle Ledger's profile.  I generally do abot three or four of them every year, but I've never wanted an assignment, of any sort, as much as I wanted this one.
Happily, I got it.  Heath is obviously no longer with us, so cranking out a profile with the right perspective was always going to be difficult.  But taking some insightful words from Aaron Eckhart and a nicely enlightening chat with producer Chuck Roven, I came up with something I'm proud of and that I hope does the actor some level of justice.
Here's a taste:
"He was always part of a very short list of guys we had talked about, but so many things were wonderful surprises," Roven says. "When we heard his voice, when we see his tongue flick, when he does that thing with his hair when he sees Rachel. The thing about this performance is it really pulls you in. You know this character is deeply disturbed, but you want to spend time with him."

Regarding that flick of the actor's tongue, like some wicked clown serpent, Roven says Ledger researched what it would be like if someone had his mouth cut like the Joker's horrific scarring suggests. In some cases, Ledger told Roven, a person might run the tongue along the wound. So the actor built that defining physical attribute into the character.

Ledger was never able to see his finished performance, though Christopher Nolan did show him the film's introductory scene, featuring a Joker-masterminded bank heist. For Roven, the portrayal lives on in the film's popular and critical reception and, indeed, the awards chatter the late actor's work has ignited throughout the year.
Check out the rest here.