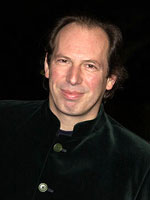 The diligence Los Angeles Times columnist Patrick Goldstein has been doing on this back-and-forth on the eligibility of Hans Zimmer and James Newton Howard's score for "The Dark Knight" is, I think, exceptional.  Goldstein got Zimmer on the phone last night to discuss how the reversal of the decision came to pass.
It seems Zimmer went, in person, to the music branch's executive committee meeting Friday night to plead his case:
"My basic argument was–composers are honest human beings…If we're telling you that we, and we alone, wrote the score, why don't you believe us? We were very candid. We said, 'Why would we lie? And if you don't believe us, go ask Chris Nolan, the film's director. He saw who did the work.'"
That's fair enough and I'm glad he got everything across to the branch that needed to be, but even with that in mind, I think the rules should extend to whatever number of composers are necessary.  Why put a limit on it?  That's irritated me on many fronts for years.  The three producer thing for Best Picture nominees in particular.  But Zimmer had some stinging things to say about all of that as well:
I think the value of the Oscars is being erased by the narrowness and nitpicking of all the academy rules and regulations. The executive committee shouldn't be excluding people's work because of technicalities. Especially today, with all the new work methods and new technology, the academy needs to change–they have to keep pace if they want to stay relevant.
Amen.