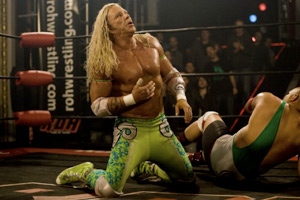 I'm reaching that sweet spot of the Oscar season.  That moment right on the cusp of major precursor announcements when critics and audiences begin to join a conversation that's been talked in circles by us pundits for a few months.  The vacuum is slipping away and the clarity of perspective shines through.
Yeah, I can admit it.  When it's one or two guys out in front of Oscar contenders, bandying about their potential, it's really just hot air until we come to this point of the year.  I gave up the idea of "formula" long ago, even if there are a precious few who still cling to that "analyst" role as something of substance.  It's not, really, and we're reminded of that each and every December.
That having been said, I certainly couldn't sit here and tell you the announcements of the National Board of Review, the scattered critical kudos and a few top 10 lists have drastically altered the game.  And when the Los Angeles and New York critics chime in later this week, I don't anticipate much in the way of a revelation then either.  It's just the way this year has turned out, leaving me wondering what more I can say in this space as we wind the year down.  So I thought I'd turn to the words of those of us who've been in the game longer than the rest, before the Oscar season became such an industry and when many of us had less of a clue than we do now, but paradoxically, had the perspective of removed innocence to show the way.
Sasha Stone over at Awards Daily, for instance, caught up with "The Wrestler" last week.  She joins an already healthy chorus of viewers that consider Mickey Rourke's work in the film the performance of the year.  She makes the shrewd observation that Rourke is part and parcel with an array of actor contenders this year that represent men who were once great, but have fallen for various reasons.  Rourke "stands out because of the physical transformation but also because of the array of complexities within," she says.
I left "The Wrestler" a few months ago knowing Rourke's performance was the year's best, whether he won an Oscar or not.  But I also thought there would be no way the film itself, which I respected enormously, would find the leverage for Best Picture consideration within the Academy.  I find myself questioning that idea more and more these days, however.  Bruce Springsteen's title track suddenly has a more epic scope.  Darren Ronofsky's (and Rourke's) hard work has drawn comparisons to great Oscar contenders of the past.  And underneath it all, Randy "The Ram" Robinson represents our own bruised and battered soul as a nation.  But perhaps the lingering loss of hope would have had more resonance if the election had gone another way.
Over at The Film Experience, Nathaniel Rogers (who has been lurking under the radar as one of the most insightful Oscar writers for nearly a decade now) taps into one of the season's more unfortunate realities: disappointment.  Bullet-pointing each of the year's Oscar heavies, he notes that "almost every film likely to be left standing on nomination morning is a somewhat underwhelming experience."  He really caught my attention in his abbreviated assessment of John Patrick Shanley's "Doubt," however.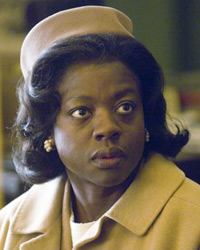 "A great(ish) play but definitely not a great movie," he says of Miramax's pony.  "Too much overkill in the telling: tilted cameras, thunderclaps, you name it… tricks! tricks! tricks! Calm down Mr. Shanley, your actors know what they're doing."
It's an interesting observation because I think it's partly indicative of what worked and what did not work this year.  Filmmakers who saw the light of artistic humility seemed to score where those who stretched perhaps too far missed the mark.
No one is advocating safe and riskless filmmaking, of course, but when you look at the success of "The Wrestler," "Slumdog Millionaire," "Vicky Cristina Barcelona," "Milk," even romps like "Pineapple Express" and "Bolt," you see the result of filmmakers (and perhaps studios, in the case of the latter) who understood their strengths and weaknesses and worked within those particulars to create films of substance.
David Poland, meanwhile, who leaped into this crazy racket a few years after Stone, Rogers and myself, takes the perception of 2008's shortcomings by calling it the year of ambiguity.  He rightly notes the peculiarity has taken hold throughout the industry, and indeed, voting bodies like the Academy.  "Of course, every movie has passionate followings…and passionate detractors," he says.  "But if you want to know exactly why the 'Slumdog' bandwagon has gotten so heavy (and subject to backlash) lately, it's not just the movie…it's that people feel something intensely when they walk out of the movie theater."
From the beginning of the season, with a big Telluride/Toronto reveal that secured its place in the race, Danny Boyle's film has been the only upward-trajectory effort in the mix.  What's more, with every turn of the season, every new piece of the puzzle, every new piece of insight, it has remained the unique contender of delightful whimsy and approchable emotional resonance.
"Milk" has its elements in this regard, and certainly "Australia" had it in spades (albeit under the weight of sloppy filmmaking) before exiting stage left.  In my view, as I mentioned two weeks ago in this very column (and before it became the trendy quip it is now), this makes "Slumdog Millionaire" the film to beat this Oscar season.  And I don't think it could have turned out that way without the late-season deflation of so many anticipated contenders.
With that in mind, David Carr notes the vulnerability of the film to detractors and aggressive backlash.  Of course, Carr just joined the Oscar table three years ago, but in that time, he has remained both a refreshingly removed source of commentary and an evolving voice in the mixture.  I toss him into this collective if only because that mixture of level-headed perspective and gee-whiz purity (a character trait slowly slipping away as The Bagger becomes an old pro at this silliness) is a reminder of where those of us who cover the race would like to be (and some of us have strived for since diving in during the dot-com madness of so long ago).
"We are talking about indicators of prevailing winds," Carr says of the precursor showing for Boyle's film.  "One-by-one, the other contenders have come and gone, impressing to be sure, but none knocking filmgoers back in their seats. And that's what a best picture does…the ability of Mr. Boyle to find both the movie and the humanity in that story make it a tough Oscar competitor."
As I sit down to write my annual "best of the year" column, I find many of the voices of the season, those voices I've lived with for so many years, are eerily reflecting my own this time around.  Though I anticipate my list of the year's greatest output will be, as ever, somewhat removed from the pack, it is interesting to me that this has become the first Oscar season to boil so quickly to a consensus on so many fronts.  This, of course, makes it ripe for surprise, as any year can indicate.
But I'm betting the real surprises will come after the nominations drop, when a studio like Warner Bros. snaps awake and suddenly sees that perhaps "The Dark Knight" can be more than just a Best Picture nominee.  When afterburners are switched on for films pulling the ole' rope-a-dope as we move slowly toward the nominations announcement.  And as many of the talented individuals responsible for the year's awards season product find their stride and connect with voters like they never thought they would.
That is when the magic of Oscar season really takes flight.
(This will be the last chart update until Monday, December 22.  A week from today, Monday, December 15, I'll kick off my annual year-in-review week, starting with the top 10 list on Monday, the "if I had a ballot" post on Wednesday and a list of superlatives on Friday.  In that time we'll see kudos dished out all over the place, but it's probably better to hold offf until that dust settles right before Christmas.)

Main Category Charts
Technical Category Charts
The Contenders
Oscar Prediction Archives