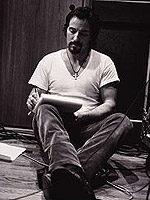 It's been 13 years since Bruce Springsteen was nominated for an Oscar (1995 for the title track to Tim Robbins's "Dead Man Walking") and two more since he's taken the award home (1993 for "Streets of Philadelphia").  With little in the way of competition beyond songs like "Rock Me Sexy Jesus" from "Hamlet 2" and the "High School Musical 3" soundtrack (okay, Peter Gabriel's "Down to Earth" from "WALL-E" is a definite threat), the question becomes, Will The Boss win statuette number two?
I'm thinking it's a great possibility, especially when you consider the story behind the track.  As Mickey Rourke has been telling journalists who'll listen, and as he said to me during our interview last month, the actor sat down to write Springsteen a letter after falling out of ouch for over a decade.  Springsteen took a look at the film and went to work on a blue-collar track to go along with the story, all the while director Darren Aronofsky not fully grasping how big a deal that was.
Aronofsky wasn't a big Boss fan and didn't really get the connection the performer has with his fans until Rourke took him to a concert and Aronofsky finally got it.  "Hey, they really like this guy," he told Mickey.  Nothing like a little innocence to go along with Aronofsky's undeniable intellect.
Anyway, Springsteen said he wanted to do the song for Rourke because he wanted to help the actor get back up on his feet after a crashed-and-burned career.  It was touching for Rourke, no matter whether jaded journalists want to question his sincerity.
Yesterday Fox Searchlight sent out the musical particulars of theire films "Slumdog Millionaire" and "The Wrestler," including original scores by A.R. Rahman and Clint Mansell respectively.  Also in the mix were the original tunes "Jaiho" from "Slumdog" and, of course, "The Wrestler."  But this version was much more souped up than the original version you hear over the credits of the film.  Indeed, it takes on an epic scope, manifying the impact of the film in your mind (have a listen to the new version here or at the bottom of the post).
Anyway, I think it's clear this race will be between Gabriel and Springsteen, two legends throughout the generations.  At the end of the day, could Springsteen walk away with that second Oscar bookend? Listen to the new version and decide for yourself:
[display_podcast]