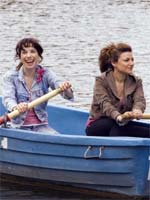 Whether it's on blogs like this one or in loftier film publications, there appears to be a general consensus that 2008 hasn't been the best year at the movies, particularly in terms of American cinema. Lots of promising projects, ambitious ideas, isolated moments of genius, but very few bull's-eyes — especially when compared to last year's bumper crop.
Well, one person disagrees. Roger Ebert, in fact. He believes 2008 has been "a great year for movies, even if many of them didn't receive wide distribution." Indeed, he thinks it so great that he can't limit himself to a standard year-end Top Ten, instead listing his 20 favourites in alphabetical order:
"Ballast," "The Band's Visit," "Che," "Chop Shop," "The Dark Knight," "Doubt," "The Fall," "Frost/Nixon," "Frozen River," "Happy-Go-Lucky," "Iron Man," "Milk," "Rachel Getting Married," "The Reader," "Revolutionary Road," "Shotgun Stories," "Slumdog Millionaire," "Synecdoche, New York," "W." and "WALL-E."
He rounds out the last with his own "Special Jury Prize" winner, Guy Maddin's "My Winnipeg," which I've been itching to see for a while. And of equal standing, he says, is his list of the five best documentaries (which actually reads like a plausible Oscar slate): "Encounters at the End of the World," "I.O.U.S.A.," "Man on Wire," "Standard Operating Procedure" and "Trouble the Water."
Of course, it's hard to argue with a personal list. Each to their own, and all that. But I must confess to feeling dismayed that only two foreign-language films made Ebert's cut in a year where, for me, the likes of "Gomorrah" and "The Class" showed more conceptual breadth and storytelling verve than almost anything to emerge from Hollywood (or Indiewood) this year. And with so many included, I find the absence of "Hunger" and "The Wrestler" hard to fathom, particularly when something like "W." is there.
But hey, it's not my list. And cheers for including "Synecdoche, New York" and "Happy-Go-Lucky." Read his whole rationalisation here.
For a more solemn take on the year's offerings, however, Anthony Lane's Top Ten for the New Yorker, has several worthy mentions (I'm pleased to see a shout-out to "I've Loved You So Long," for example), but even within his list, he finds most of the entries fall short in some way. Asking the question "how many movies from 2008 will bear revisiting in later years," he finds the answer is very, very few.
In fact, he describes "WALL-E" as "the only American release of the year that fulfilled its imaginative brief." While I agree that few films achieved that feat this year, I'm still not sure "WALL-E" was one of them. Unlike Kris, I'm a great admirer of the film, but I felt its hitherto tight thematic focus wavered in the final act. Still, it'll probably make my own Top Ten — that's the kind of year it is.
From my end, as the year's releases shuffle and settle in my mind, I'm becoming more convinced that the year's most resonant and completely realized American film was a little picture about a girl and her dog.