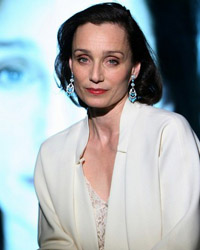 When interviewing Kristin Scott Thomas, the woman who for many audiences represents the living portrait of English upper-crust serenity, Led Zeppelin isn't exactly the first name you expect to crop up in the conversation. And yet, halfway through our Transatlantic chat, that is exactly what happens.
"Seeing the guys, well into their sixties, just getting up on stage and doing their thing … it's just so inspiring," she says, referring to the British rock gods' reunion concert that took place in London a year ago. "And spanning generations too — my son is into them. It's a reminder that you don't stop being interesting or relevant at a certain age. I'd love to do that."
As entertaining as the idea of Thomas belting out "Whole Lotta Love" to a screaming arena of thousands is, it's a weirdly apt comparison. Where many actresses her age recede (albeit not usually by choice) into mumsy bit parts and dreary disease-of-the-week movies, Scott Thomas, now (incredibly) 48, has recently been taking on the most challenging, intriguing work of her career to date.
As if to prove the point, she is speaking from New York, where she is tackling one of the theater's greatest female roles in her first ever Broadway gig. Her witty, ferocious interpretation of Arkadina in Chekhov's "The Seagull" earned her an Olivier Award for the play's original London incarnation and is now garnering breathless raves Stateside.
It's her recent film work, however, that has made 2008 a banner year for the thesp. Two highly entertaining, highly contrasting supporting roles — as a worldly lesbian in the smash French thriller "Tell No One" and an icy matriarch in period comedy "Easy Virtue" — are mere appetizers to her staggering, career-peak performance as an introverted, grief-ridden ex-con, reconnecting with family and society alike, in Philippe Claudel's superb debut feature "I've Loved You So Long."
It's a performance widely predicted to garner her a second Oscar nomination, 12 years after "The English Patient" cast her as the embodiment of stylish, cut-glass Brit aristocracy. It's an image from which her French-speaking Juliette in "I've Loved You So Long" — a shuffling, nervy figure cocooned in insecurity and drab dresses — could not be further removed, and Thomas is glad to be rid of it.
"The British are absolutely, chronically obsessed with class," she explains. "So they only want to cast me in these posh, brittle, witty parts. And that's really not who I am. But because that's what I played in my first major film, the Evelyn Waugh one (1988's "A Handful of Dust"), that was it. I got stuck."
It's a character type that continued through to the two films that really made her name in Hollywood in the mid-1990s: the hit romantic comedy "Four Weddings and a Funeral" and the aforementioned "The English Patient." Thomas remains grateful for the roles and proud of her involvement in the films, but doesn't mind admitting that she was getting restless. By the time she reached Robert Altman's "Gosford Park," in which she offered (impeccably, mind you) yet another variation on English upper-class cattiness, she had had enough.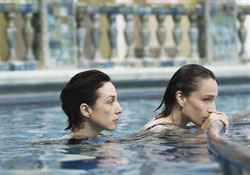 "While we were filming, I looked at Emily Watson playing the head housemaid, and I was so envious," she says ruefully. "I just thought, 'Why can't I play the maid for a change?' Off-screen, there's no difference to the way Emily and I speak. But that's the way it is. If my first big role had been a farmer's wife from the north, then that's all they'd be asking me to play now. It's awfully frustrating."
The solution for Thomas was to do more work in France, the country she has called home since she was a teenager — indeed, she frequently admits to regarding herself as more French than British. French cinema, she says, affords her "more cultural range" as an actress: "My instincts as an actor are the same, but the body language, all the reference points, are entirely different, and that's very liberating." She laughs. "I know that's a terribly actor-y thing to say, but it's true."
Her latest role, in particular, is regarded by the actress as a kind of personal breakthrough. "She's the first character I've ever played who is completely unmanipulative," she says of Juliette. "It sounds funny, but I really liked her lack of wit. She's straight up; there's no second degree with her."
As an example, Thomas cites one of her favorite scenes in the film, a brilliantly written and performed bit of dramatic irony where Juliette candidly reveals her terrible, long-held secret at a dinner party — and is automatically presumed to be joking by all the guests. "Someone that internalized is actually completely without artifice," she says.  "And it's easier to be truthful as an actor with a character as bald as she is."
The secret in question was, for Thomas, her most crucial inroad into the characterization of Juliette. "Her secret is, in a way, her most important possession," she says. "It's what keeps her going. She is determined not to self-destruct, because as long as she stays alive, her secret stays alive. So she's self-sufficient, but at the same time has a genuine fear of abandonment. I found that fascinating to play."
It's certainly a more ambiguous, even dangerous, characterization than her roles in what she wryly terms the "country-manor films," though she hasn't escaped the latter altogether. The aforementioned "Easy Virtue," a slightly modernized Noel Coward bauble about which she is easily the best thing, is a "country-manor film" in every sense of the word.
"I'll be honest, I had to be dragged kicking and screaming into that film," she admits. "I did it out of loyalty to people involved, but in the end it was such a blast. Stephan (Elliott, the film's Australian director) is hilarious, and we all had such fun." It certainly shows in the finished product, I remark. She agrees. "Noel Coward is probably spinning in his grave," she says.  "But it's simply a very funny film. And it's good to change the pace a bit."
Indeed, Thomas tries to keep things interesting with a current routine of "one English film, one French film, and a bit of theater." Likening her career pattern to that of her language-hopping peers Juliette Binoche and Charlotte Rampling, she claims that her bilingualism stands her in good stead in her home country — "The French love the English stuff, they're fascinated by it — as, indeed, does her age.
It's true that French filmmakers have always created more substantial parts for women entering middle age than their American or British counterparts, celebrating actors like Binoche, Rampling, Isabelle Huppert or Catherine Deneuve well into their 40s and beyond. "I think the French have always enjoyed older women, and they're right to do so," Thomas muses. "I would much rather watch a film about a character like Juliette than a young girl, because with Juliette, a life has been lived. There's so much more at stake. The French get that, and as an actor, I'm glad for it."
The rest of the world is starting to get it too, she says. "Things are definitely shifting from how they were 10 or 15 years ago. Just recently, we had Julie Christie in 'Away From Her.' And someone like Helen Mirren is a star now. The English and Americans are realizing that women are still interesting and sexy on the wrong side of 40." She pauses, and catches herself. "Who's to say it's the wrong side of 40, anyway?"
With Kristin Scott Thomas's career only now reaching its sweetest spot, one can only agree with her.