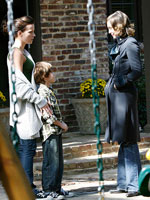 I mostly enjoyed this by-the-numbers Adam Liptak New York Times piece concerning Rod Lurie's upcoming "Nothing But the Truth."  I'd say this little anecdote about Vera Farmiga's acting prowess is probably the best part of an otherwise ho-hum article, though:
But the film's most striking performance comes from Vera Farmiga, who plays the C.I.A. operative, here called Erica Van Doren. In one scene Van Doren, suspected of leaking her own identity, is given a lie detector test. "We brought in a real polygraphist to polygraph her," Mr. Lurie said. "He actually connects her up to the machine and asks her, 'Is your name Erica Van Doren?' and so on."

Mr. Lurie thought that would be good for verisimilitude. But it turned out the machine had something to say about the power of Ms. Farmiga's acting. The polygraph operator, Mr. Lurie recalled, pulled him aside afterward: "He says: 'You're not going to believe this. The machine says she's telling the truth.'"
Farmiga is solid in the film, as is, really, the entire cast, from Kate Beckinsale on down.  I also agree with Jeff Wells that the film is not getting the attention it deserves, but that's directly attributable to a) the amount of money Yari Film Group/David has to toss at an awards campaign versus the pocket books of major studios/Goliath, and b) the late-year, November/December glut of Oscar contenders, many of which have fallen out and will continue to do so, but for the time being, are ruling the conversation.
My thoughts, published during the film's Toronto run, can be found here.