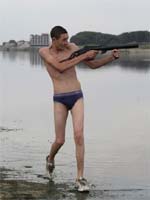 Wow. As I said when the European Film Award nominations were announced a month ago, this year offered a pretty vintage slate of contenders. I therefore expected the honours to be spread quite widely, as is often the case with these particular awards.
But it was not to be. In a spectacular sweep, Matteo Garrone's riveting Mafia opus "Gomorrah" took home five awards, including Best Film, Best Director, Best Screenwriter, Best Cinematographer and Best Actor for Toni Servillo, who won jointly for "Gomorrah" and his more prominent role in "Il Divo."
I must admit the latter award surprises me: terrific as Servillo is in both films, I assumed "Hunger" star Michael Fassbender had that one locked up.
In a less surprising but richly deserved victory, Kristin Scott Thomas took the Best Actress award for "I've Loved You So Long," her first trophy of the awards season. I suspect it might not be her last; check out my interview with the extraordinary thesp here.
Elsewhere, "Hunger" inevitably took the Discovery Award for debut director Steve McQueen, while "Waltz With Bashir" was an inspired choice for the Best Composer prize (beating Oscar-winner "Atonement," no less).
But beyond that, it was "Gomorrah" all the way, marking an auspicious start to the awards season for a contender generating buzz beyond just the Best Foreign Language Film category. I'm pleased to see this landmark film getting its due, though I do wish such notable fellow nominees as "Happy-Go-Lucky" and Laurent Cantet's wonderful "The Class" hadn't gone home empty-handed. Ah well.
Full list of winners after the cut.
Best Film: "Gomorrah," Matteo Garrone (Italy)
Best Director: Matteo Garrone, "Gomorrah" (Italy)
Best Actor: Toni Servillo, "Gomorrah" (Italy), "Il Divo" (Italy-France)
Best Actress: Kristin Scott Thomas, "I've Loved You So Long" (France-Germany)
Best Screenwriter: Maurizio Braucci, Ugo Chiti, Gianni di Gregorio, Matteo Garrone, Massimo Gaudioso, Roberto Saviano, "Gomorrah" (Italy)
Carlo Di Palma Cinematographer Award: Marco Onorato, "Gomorrah" (Italy)
Prix D'Excellence: Magdalena Biedrzycka for costume design, "Katyn" (Poland)
Best Composer: Max Richter for "Waltz With Bashir" (Israel-France-Germany)
Discovery Award: "Hunger," Steve McQueen (U.K.)
Fipresci Critics' Award: Abdellatif Kechiche, "The Secret of the Grain" (France)
Prix Arte Documentary: "Rene," Helena Trestikova (Czech Republic)
Prix Arte Short Film: "Frankie," Darren Thornton (Ireland)
Lifetime Achievement Award: Judi Dench
Achievement in World Cinema: Soren Kragh-Jacobsen, Kristian Levring, Lars Von Trier, Thomas Vinterberg
People's Choice Award: "Harry Potter and the Order of the Phoenix," David Yates (U.S.-U.K.)