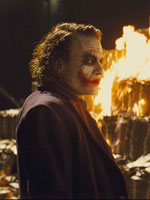 I read this Rachel Abramowitz story concerning the pitfalls of campaigning for a posthumous Oscar nomination on behalf of Heath Ledger twice.  Packed with anonymous sources (until 42 West's Cynthia Swartz pops up at the end with some insight on hawking Massimo Troisi 13 years ago), it really is a brick-wall story.  Nothing gleaned, nothing of substance conveyed.
Dare I say it, I would have killed it.  Not because of the subject, and Abramowitz does what she can at the whims of her sources, but because it doesn't carry the weight it might have if certain parties had taken their heads out of the sand.
At this point, I think it's a bit ridiculous for Warner brass and campaigners to stay off the record for this stuff.  It's understandable in certain cases and I get it, you don't want to come across as taking advantage of Ledger's death.  But other than idiot Terry Gilliam, I don't think anyone really thinks that is happening or has happened.  It's been a classy ride, and as Abramowitz notes, the studio "was deft in its initial marketing push for 'The Dark Knight,' for the campaign neither hid Ledger's presence nor overly hyped it."
This could have been an insightful story with names in the mix, giving a real face to the realities of attempting to ensure a sort of prosperity for Ledger's work through campaigning it for awards.  The most interesting point comes at the end of the article, when Abramowitz is forced to quote from the paper's geek blog Hero Complex (from a Geoff Boucher interview with Christopher Nolan).  But otherwise, it's just a lot of hot air and it really gets under my skin.
The true infuriating quote, however, has to be this doosey from some moronic competitor (who we can only hope represents either a marginal Hollywood opinion or, at the very least, is indicative of nothing more than behind-the-scenes smearing that takes hold this time of year):
"Until we wake up one day and we no longer are making any good movies — dramas — then the academy will not go this route, unless it's outrageously different . . . . This picture is not so different from the first one. It's still the Batman story. He wears a hat with ears, a cape that can fly."
I've been repressing my inner Bat-geek for some time this year, trying to keep an even keel, combatting the hyperbole when I can.  Because let's face it, praise for "The Dark Knight" got out of hand this year.  But more and more, as I read stuff like this, as I talk to publicists whose antagonistic banter you can see through like crystal — oh yeah, believe me, there are people trying to take this thing down because it rightfully scares them — more and more I'm finding it necessary to beat the drum.