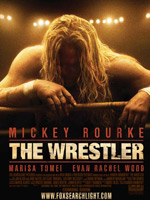 Fox Searchlight Pictures will be screening its awards season favorite "The Wrestler" in tandem with two classics of American cinema next week: Elia Kazan's "On the Waterfront" and Martin Scorsese's "Raging Bull."  The event, to be held at the Aero Theater in Santa Monica, has been dubbed: "Contenders: A Look at Film Heavyweights."
Each film, with their esteemed blue collar performances from Marlon Brando and Robert De Niro respectively, has popped up in Q&A sessions during screenings for Aronofsky's film, a Searchlight spokesman said.  The screenings will take place on Monday, December 8 and Tuesday, December 9.
"I look at those films and I stand in awe of them," Aronofsky told me yesterday.  "You can't take your eyes off them.  They are mentor films to 'The Wrestler' in a way" and they contain "untouchable, iconic performances."
Aronofsky says both "On the Waterfront" and "Raging Bull" have always been an inspiration.  He studied both in film school, in fact.  But beyond that, it is hardly surprising that parallels might be drawn between these two classics and Aronofsky's film; actor Mickey Rourke's performance has been singled out as an "amazing tour-de-force" by the Los Angeles Times' Patrick Goldstein.  Variety's Todd McCarthy, meanwhile, wrote that Rourke's work "instantly takes its place among the great, iconic screen performances."  And so it will again next week.
"My favorite part of the process is working with the actors," Aronofsky said.  "It reminds me that the only true time we get to be artists is between 'action' and 'cut.'  And every day, Mickey gave me a new gift.  Watching him work is amazing and the honesty he brought is reminiscent of those films, I think."
The first double-bill will start at 6:30 p.m. Monday evening with "On the Waterfront."  "The Wrestler" will follow at 8:00 p.m.  Tuesday, Aronofsky's film will show at 6:00 p.m. and "Raging Bull" will close the evening, and the two-day event, at 8:00 p.m.