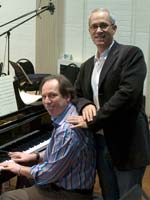 The Academy's petty disqualification of Hans Zimmer and James Newton Howard's score for "The Dark Knight" from Oscar contention has already caused much gnashing of teeth on these pages, so here's something to compound the embarrassment.
It seems the Grammy voters are rather less fussy. Zimmer and Howard's work was nominated yesterday in the category of (deep breath now) Best Score Soundtrack Album For Motion Picture, Television Or Other Visual Media. (Still with me? Good.)
And hey, look who joins them on the list: none other than Jonny Greenwood for "There Will Be Blood," who of course won last year's Oscar because the work was simply too groundbreaking to be ignored. Oh right, except he didn't, because he was disqualified. Sensing a pattern here?
We shouldn't be surprised by now that a voting body unrelated to the field of film should exhibit more common sense than AMPAS' music blue-hairs, but that doesn't make it any less frustrating.
Joining Greenwood, Zimmer and Howard on the list are three more 2008 contenders, Thomas Newman for "WALL-E," Ramin Djawadi (surprise!) for "Iron Man" and John Williams (yawn) for "Indiana Jones and the Kingdom of the Crystal Skull."
"WALL-E," meanwhile, managed another nomination in the Best Song Written For A Motion Picture (etc, etc) category, for Peter Gabriel's "Down to Earth." That it was the only 2008 release to feature in the list (alongside cuts from "The Bucket List," "Walk Hard" and two for "Enchanted," including the Carrie Underwood number that miraculously wasn't nominated for an Oscar this year) perhaps is an indication of how lame this Oscar race is looking at the moment. (Bear in mind that their eligibility deadline was months ago, however.)
Incidentally, moving away from movie talk, I was amazed to see the Grammys going for some credibility this year by nominating Radiohead, Lil Wayne and M.I.A. in their top categories. Maybe, amid the dullness of the film race, there is an awards show I can get behind this year after all.