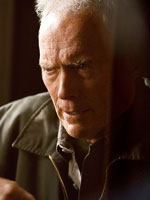 The National Board of Review has announced its list of winners for the 2008 awards season and Fox Searchlight's "Slumdog Millionaire" is the big champ, taking down three awards including Best Film and a tie for Best Adapted Screenplay with Eric Roth's "The Curious Case of Benjamin Button."  Dev Patel also won the award for Breakthrough Performance by an Actor.
That tie for adapted screenplay does little to separate those two competitors at this point, both in that category and in the big race, which most concede is neck-and-neck at the moment.  David Fincher also took the NBR's Best Director award.
The immediate point of interest is the love for "Gran Torino."  Clint Eastwood seized the Best Actor trophy, perhaps the first in an upcoming slew of awards for the actor's swan song performance, perhaps simply indicative of the NBR's affinity for Warner Bros. product.  Nick Schenk won the award for Best Original Screenplay, which will lead many to think this film is a major Oscar player.  Hmm…
Another interesting tid-bit: Paramount Vantage was virtually shut out of the proceedings, with only a single mention for "Defiance" in the NBR top ten.  Nothing for "Revolutionary Road."  But it is worth pointing out that "There Will Be Blood" was completely shut out of the group's awards last year, and we all know how that turned out.
I think calling Viola Davis's admittedly stunning performance in "Doubt" a "breakthrough" is a bit of a stretch considering how long the actress has been in the game, but the definition of that award shifts from year to year it seems.
And finally, after James Franco slipped into the Indie Spirit Award nominations for his supporting performance in "Milk," Josh Brolin walks away with the win today in the same category.  Who knows how it will turn out for Oscar?  My bet is still on Brolin, who had a banner year with his performance here and in "W," not to mention the left-over goodwill for his work in multiple films last year.
(Full list of winners after the jump.)
Best Film: "Slumdog Millionaire"
Best Director: David Fincher, "The Curious Case of Benjamin Button"
Best Actor: Clint Eastwood, "Gran Torino"
Best Actress: Anne Hathaway, "Rachel Getting Married"
Best Supporting Actor: Josh Brolin, "Milk"
Best Supporting Actress: Penelope Cruz, "Vicky Cristina Barcelona"
Best Foreign Film: "Mongol"
Best Documentary: "Man on Wire"
Best Animated Feature: "WALL-E"
Best Ensemble Cast: "Doubt"
Breakthrough Performance by an Actor: Dev Patel, "Slumdog Millionaire"
Breakthrough Performance by an Actress: Viola Davis, "Doubt"
Best Directorial Debut: Courtney Hunt, "Frozer River"
Best Original Screenplay: Nick Schenk, "Gran Torino"
Best Adapted Screenplay (tie): Simon Beaufoy, "Slumdog Millionaire" and Eric Roth, "The Curious Case of Benjamin Button"
The top ten (in alphabetical order):
"Burn After Reading"
"Changeling"
"The Curious Case of Benjamin Button"
"The Dark Knight"
"Defiance"
"Frost/Nixon"
"Gran Torino"
"Milk"
"WALL-E"
"The Wrestler"
Top five foreign films (in alphabetical order):
"Edge of Heaven"
"Let the Right One In"
"Roman de Gare"
"A Secret"
"Waltz with Bashir"
Top five documentary films (in alphabetical order):
"American Teen"
"The Betrayal"
"Dear Zachary"
"Encounters at the End of the World"
"Roman Polanski: Wanted and Desired"
Top Ten Independent Films
"Frozen River"
"In Bruges"
"In Search of a Midnight Kiss"
"Mr. Foe"
"Rachel Getting Married"
"Snow Angels"
"Son of Rambow"
"Wendy and Lucy"
"Vicky Cristina Barcelona"
"The Visitor"

William K. Everson Film History Award: Molly Haskell, Andrew Sarris
Spotlight Award: Melissa Leo, "Frozen River," Richard Jenkins, "The Visitor"
The BVLGARI Award for NPR Freedom of Expression: "Trumbo"