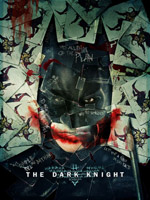 A boatload of people turned out last night for the Beverly Hills reception in honor of "The Dark Knight."  I hesitate to say "star-studded," since the principle cast and crew were the most recognizable parties.  But suffice it to say the premises was packed with little breathing room and plenty of adoring press.
Producer Charles Roven and screenwriter Jonathan Nolan were the first to show, side-by-side and quick to engage with some of us ready to pounce.  Roven, who I interviewed recently for a Variety profile on Heath Ledger (publishing this weekend), was trying to take it all in stride.  The only film he's ever produced that landed Oscar's attention was "Twelve Monkeys" in 1995 (nominations for Best Costume Design and Brad Pitt for Best Supporting Actor).  He's welcome to the idea that "The Dark Knight" could be his first trip to the party as a nominee but he's almost more interested in discussing what's on the horizon, namely Tom Tykwer's "The International," which has been with Roven for 16 years of development and will finally find its way to screens in February.
Jonathan Nolan, meanwhile, proved to be a welcome five-minute diversion.  A real guy's guy with a swift Chicago accent, he clearly delights in a deep discussion about the Caped Crusader.  His brother Christopher gave him a copy of Frank Miller's "The Dark Knight Returns" when he was 13 years old and the Bat has been with him ever since.  "I've been into Spider-Man and Wolverine, but for me, it's always been Batman," he said of the character that has brought him into the limelight of sought-after screenwriters.  I asked the obligatory "will there be a third one" question, and taking on the role of fan first, he offered, "I hope so.  Given what happened to Heath [Ledger], it's hard to say, 'Yeah, let's do another one!'  But I hope so."
David Goyer offered that "when we finished 'Batman Begins,' we said we wouldn't do another one unless we could top it.  But now, the bar has been set much higher."  Since striking gold with the Batman franchise on film, Goyer says the suits at DC Comics have told him he's more than welcome to write any character he'd like.  Of course, he made his mark in series such as DC's "JSA."  He's interested in the work being offered by Grant Morrison in the pages of "All-Star Superman" and Paul Dini recently in "Detective Comics," but he may be waning on the Caped Crusader.  "I don't want to immerse myself in Batman continuity right now," he said.  But he's certainly taken with the response to the film so far.  Who wouldn't be?
Gary Oldman, meanwhile, was keeping a low profile, almost unrecognizable despite the strikingly iconic figure he cuts in a crowd.  Sporting a casual scarf and the same spectacles of his Bat-character, James Gordon, he milled about this conversation or that with Roven and actor Christian Bale.
Speaking of Bale, you won't likely meet a more intense performer.  With wife Sibi Blazic in tow, he fielded an array of questions from those of us in the geek press, but he won't suffer foolish or half-considered queries.  He leans in with an expectation of elaboration before committing himself to the discussion, which can be as refreshing as it can be intimidating.
"I don't really compete with other actors," he said of his engagement with Heath Ledger's Joker on the screen, a portrayal that has been considered the year's best and an iconic incarnation in many circles.  "It's more like I compete with myself."  That said, Bale is very happy with his performance in the film and is more than willing to concede that "Heath is the man in this movie."
A fellow journalist asked Bale if he'd ever considered writing and the actor looked into space for a moment as if he'd never truly thought about it.  "No," he said.  Same with directing, despite a clear eye for wonderful material.  "I'd much rather be responsible for myself rather than be responsible for other people's work," he said.  "I'd rather be a loner in that way."
Elsewhere, Christopher Nolan held court with all comers.  I spoke briefly with him before Warner Bros. brass began to circle around the director, owing plenty to the success of his film and certainly willing to show their appreciation.  I asked him about the film's parallels with "The Man Who Shot Liberty Valance," John Ford's 1962 western that offered the classic tome, "When the legend becomes fact, print the legend."  By the end of "The Dark Knight," those words seem to ring clear (an observation I should attribute to my friend, Cinematical critic James Rocchi).  Funnily enough, neither Nolan nor his brother Jonathan have seen the film.  Ditto Bale.  But Nolan was very conscious of the parallels to George Stevens' "Shane" that come to the surface in the final scene of "The Dark Knight."
"The western and the superhero genre are very analogous to one another," he said, sporting a scruffy beard that is driving wife and producing partner Emma Thomas crazy these days.  "I was thinking about that while working on the film."  Ironically, WB honcho Alan Horn interrupted us at this moment.  Horn boasts a considerable collection of western art, including his fair share of Frederic Remington paintings.  "I hope you get an Oscar nomination for this," I told Nolan.  "Me too," Horn said.  But of course.
Thomas told me Nolan is actually interested in putting together a western, but the stars haven't aligned for that yet.  Lately, the couple has been taking a much deserved (and earned) vacation from the rat race as Nolan toils away on his latest script, an original yarn that Thomas wasn't quick to discuss.  "He has this thing where he grows a beard when he's writing," she said.  "He has to get rid of it!"
Being a producer on the Batman franchise, Thomas has had her share of creative differences with Nolan in the past.  But "he usually convinces me" otherwise, she said.  She mentioned that Nolan is keen to do a horror film, something tangible and perhaps cerebral, more akin to "Jaws" than something supernatural.  We chatted briefly about Nolan's aborted Howard Hughes screenplay but she is hopeful they can revisit the project in the future, despite the success of Martin Scorsese's "The Aviator" in 2004, which played a role in derailing Nolan's effort.
Thomas was talking with actor Aaron Eckhart away from the fray when I butted in.  I first met Eckhart two years ago at a party for Guillermo Del Toro, Alfonso Cuarón and Alejandro González Iñárritu.  The word was that Eckhart was going to be cast as Harvey Dent in Nolan's upcoming "Batman Begins" sequel.  "Are you gonna be in Batman," I asked him at the time.  "Who told you that," he responded with a smile.  "We'll see."  Eckhart remembered the moment and reflected on just how much he was in the dark on the upcoming film at the time.  "I really didn't know just how deep this character was going to be," Eckhart said.  Thomas said he signed on before there was even a screenplay in place.  Ledger, too.  "It was a leap of faith for these guys," she said.
One of the most pivotal scenes of "The Dark Knight" is a bedside encounter between Harvey Dent and Ledger's Joker, a moment Eckhart has said caused him to really step up and bring his A-game.  "Anytime you're in a movie, as an actor, it's all about you," he said with a laugh.  "So yeah, I have an ego, but no one has ever come to play like Heath did.  And I've never seen someone stay in character between takes yet be so open to the cast and crew."
I made it a point of digging into the fate of Eckhart's character in the film.  "I don't care, I don't think you're dead," I said.  "Oh, I'm dead," he responded.  I immediately leaned in to Thomas and told her I'm well aware of what she has said on the matter, and all she could offer was a devilish grin.  Eckhart jumped in: "Look, if you guys want me back (meaning Thomas, Nolan and company), I'd love to come back."  The case may not be as closed as we'd think.
Finally, I also chatted with production designer Nathan Crowley and casting director John Papsidera.  Crowley talked briefly about the striking difference in color schemes from "Batman Begins" (full of browns and certainly dark) to "The Dark Knight" (with an aray of cooler blue hues).  It was definitely a conscious decision to move things into a darker place for the look of "The Dark Knight," which came with much more location shooting that "Batman Begins" and not nearly the same amount of on-set production.  He remembers working in the same building as "Batman" production designer Anton Furst at MGM studios years ago and certainly respected Furst's Oscar-winning work, but he never let the infamous designs of the first franchise impede on his creative faculties in Nolan's vision.  "I just never looked at it like we were doing a Batman film," he said.  A focus on reality — or hyper-reality, as Roven has called it — was the mandate throughout.
I only had one question for Papsidera, though: "Were you responsible for casting Tiny 'Zeus' Lister?"  It turns out he was.  Papsidera always wanted a recognizable actor for the role of a convict at the forefront of a thematically heavy scene in the film's climactic set piece and, of course, someone a bit terrifying as well.  I think he nailed it.
Whether "The Dark Knight" will land a Best Picture nomination is still to be seen, but more and more, the stars seem to be aligning in the film's favor.  For some, like Roven, the reward will remain working with a cast of this caliber.  For others, like Eckhart, it will be the experience of performing under the guidance of a filmmaker like Nolan.  Money certainly isn't an issue, $500 million later.  And truthfully, industry recognition in the form of Oscars doesn't seem to be a high priority to the principles in attendance last night.
But I don't think any of them would look a gift horse in the mouth.