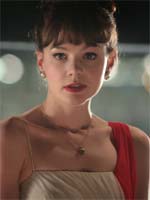 For those who really want to get an early start in the awards-guessing game, the lineups of films competing for honours at next month's 25th annual Sundance Film Festival has been announced. As usual, the competition is split into four sections — US dramatic, US documentary, world dramatic, world documentary — with 16 films competing in each.
Looking down the list of films, it's pretty much impossible to anticipate hits or highlights based on name recognition alone. After all, the whole point of Sundance is for unexpected successes to emerge out of nowhere. This time last year, who could have predicted that a miniscule, star-free picture called "Frozen River" would be making waves on the awards circuit following a win at Sundance? Nobody. That's the beauty.
With that in mind, I've selected one film from each section that piques my interest — either I've been following its progression for some time, or I simply like the pitch and/or people involved.
AN EDUCATION (World Dramatic) I've been intrigued by this one for a while, partly because it's written by Nick Hornby, and partly because it stars the incandescent young Carey Mulligan, who blew me away as Nina in last year's Royal Court production of "The Seagull" (now on Broadway). I predicted then and there she'd be a star, so I'm interested to see if this demonstrates her potential. She plays a smart teenager in 1960's London who falls under the spell of a debonair older man. Peter Sarsgaard, Emma Thompson and Sally Hawkins are also in the impressive cast, while Lone Scherfig, best known for "Italian for Beginners" (an unusually cuddly work from the Dogme sect), directs. I'm in.
BIG FAN (US Dramatic) Following his pared-down, beautifully calibrated script for "The Wrestler," Robert D. Siegel's name is enough to get me interested in this, his directorial debut. It apparently centers on a devoted New York Giants fan, making a living as a parking garage attendant, who suffers an emotional collapse after he is beaten up by his favourite player. With any luck, the film could be as simultaneously bruising and finely wrought as Siegel's current work. Patton Oswalt and Michael Rapaport star.
WHEN YOU'RE STRANGE (US Documentary) A really inspired match of filmmaker and subject matter, this documentary about The Doors (the first ever feature doc on the band, believe it or not) marks the first foray into non-fiction territory for Tom DiCillo. Best known for woozy, eccentric indie comedies like 1991's Brad Pitt-starring breakthrough "Johnny Suede," DiCillo has kind of dropped off the radar lately, but given his taste for languid surrealism and killer music, he may well be better equipped to take on Jim Morrison's genius than Oliver Stone.
AFGHAN STAR (World Documentary) Okay, so I'm making a completely blind pick from this lot. But this portrait of four contestants in the Afghan edition of the "Idol" TV franchise, a new addition to the country's cultural landscape following thirty years of Taliban rule, jumped out at me because a) I'm a shameless TV singing-contest addict, and b) it's an uncomfortably similar premise to a fictional project I was planning a while back. I hate it when life happens faster than fiction.
Check out the whole list here, if you're so inclined.