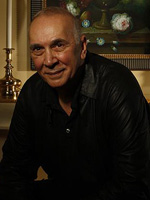 Anthony Breznican's USA Today profile of "Frost/Nixon" star Frank Langella is a nice sprint through the actor's career with nice anecdotes from this year's Best Actor hopeful.  But sue me for relishing the send-off more than anything else:
In the 1980s, his movie career waned, but one high-profile performance was that skull-faced villain Skeletor in 1987's Masters of the Universe, based on a hit toy line and cartoon his children watched. "In the end, they couldn't care less," he says. "I had a screening for them, and they both fell asleep!…I loved playing Skeletor, and people sometimes say, 'Aren't you embarrassed?' Not in the least! I loved my performance in that. I worked very hard to make him as exciting as I could. It was a great paycheck. But it was also delicious."

He also wrote some of his own dialogue, including this question to Dolph Lundgren's muscle-bound hero: "Tell me about the loneliness of good, He-Man. Is it equal to the loneliness of evil?"

The actor pauses as an idea occurs to him. "Sir Thomas More and Richard Nixon," he says. "I am playing in both of these men the loneliness of good and the loneliness of evil. Jeez, I never thought of it before."

Langella starts to laugh: "The parallels between these two … Who would have known Skeletor would be the precursor?"
Brilliant.  Read the rest here.