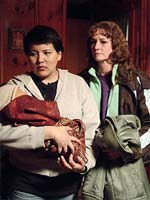 "Frozen River" is really turning into one of the surprise packages of this admittedly young awards season. Just yesterday it had a superb showing in yesterday's Independent Spirit nominations, where it beat the more hotly fancied likes of "The Visitor" to a Best Picture nomination, only two days after landing an unexpected nod in the top category at the Golden Satellite Awards (fending off even heavier opposition, principally "Benjamin Button").
Now its dream week continues after taking the Best Feature award at last night's Gotham Awards, as well as a Best Breakthrough Actor gong for Melissa Leo. Not bad going for a film that was only being talked of in Best Actress circles a few months ago.
If it continues to emerge as this year's indie Cinderella story, I'll be interested to see what notice the Academy takes of it. I sense a Best Original Screenplay nod for Courtney Hunt is a genuine possibility considering the dearth of heavyweights in that field. At the very least, however, the more momentum the film gains, the more I like Leo's chances of a well-deserved Best Actress nod.
Moving on to the rest of last night's awards, I'm glad to see that "Synecdoche, New York" jointly triumphed in the Best Ensemble category, tying with "Vicky Cristina Barcelona" — with a scattering of Spirit noms too, at least Charlie Kaufman's widely misunderstood masterpiece isn't getting completely shafted this awards season.
Meanwhile, Lance Hammer unsurprisingly took the Best Breakthrough Filmmaker award for critics' darling "Ballast," while sentimental favou Sitrite "Trouble the Water" emerged victorious in the Best Documentary category.
The cutely named Best Film Not Playing At A Theatre Near You citation went to "Sita Sings the Blues," while Penelope Cruz, Gus Van Sant, Melvin Van Peebles and documentary vet Sheila Nevins tooks home tribute awards.