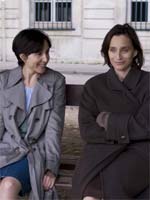 I must say, I thoroughly enjoyed Variety's recent series of articles in which prominent actors champion some of their personal favourite performances of 2008, including many of the most discussed contenders of the season. It's a simple idea, but executed with real thought and sincerity.
The pieces are interesting not just because of the more empathetic perspective a fellow actor can offer on a colleague's craft, but also because the selections and combinations are so varied and frequently unexpected.
It's not exactly surprising that an indie queen like Catherine Keener should love Michelle Williams' exquisite portrayal in "Wendy and Lucy," but Andy Garcia isn't the first person I'd think of to celebrate the work of yesterday's interviewee, Elsa Zylberstein, in "I've Loved You So Long." I particularly liked Garcia's piece because he understands just what a collaborative effort a performance can sometimes be:
It is not about the big scenes. It's about the whole personality and how it is orchestrated. Kristin Scott Thomas is the protagonist, but Kristin's and Elsa's performances are joined at the hip. On the page, Elsa's subtext may not appear as dramatic an issue as the subtext Kristin has, but there's a great delicacy with which Elsa invites us to understand her character's troubles and insecurities and how they relate to Kristin's character. It is the overall crafting of the performance that is so beautiful to watch.
In turn, Kristin Scott Thomas is profiled by Scarlett Johansson, the younger actor evidently inspired by the elder. Reversing the generation gap, Dustin Hoffman is awestruck by Melissa Leo's fearless turn in "Frozen River." Meanwhile, James McAvoy's take on Anne Hathaway shows the same respect and affection for a contemporary as Blythe Danner's valentine to Richard Jenkins.
Sally Hawkins, meanwhile, gets bouquets from two actors at very different ends of the spectrum: Colin Farrell and Emma Thompson. I love Thompson's witty, astute articulation of the viewer's shifting relationship with Hawkins' character in "Happy-Go-Lucky":
It's a remarkable piece of work by Sally Hawkins, because the Poppy character is so fascinatingly irritating. You want to grind a spoon in your eyes, and then you sit and watch the absolute goodness of this heroic girl, and it starts to work itself way into your soul. It is such a great coup by Mike Leigh. It's hard to listen to that voice, it is hard. That's what he meant it to be — hard — and then he meant you to slowly go, "Oh my God, I'm actually watching a saint!"

We know what it takes to be a male hero. The big number. But what is the nature of the female heroine? It has to do with the detail of the small actions that occur over a long, long period of time, rather than the grand gesture. "Happy-Go-Lucky" is the incarnation of that idea.
And who knew Farrell could get this warm and fuzzy:
Twee as it sounds, by the end of this film, I just wished the same for Poppy as she would seem to wish for everyone: Love and happiness, and in today's world of self-interest, that wish goes back to the gift that is Sally's, then Poppy's, then ultimately, the viewer's.
Some of them are more lyrical and oblique in their prose, while others simply offer the no-nonsense appreciation of a humble fan, as in James Franco's take on the year's most-discussed performance, Heath Ledger in "The Dark Knight:"
His was such an indelible performance. Heath had to be very conscious of it when he and Christopher Nolan went into their movie. And they did such an incredible job of getting away from the Nicholson character while being faithful to the idea of the Joker. Heath wasn't the funniest of Jokers, but certainly the more grounded of villains. At least on an emotional level, you could follow why he was doing this stuff; there was real emotional depth.
There's plenty more to enjoy in this vein: Natalie Portman on Sean Penn, Sigourney Weaver on Rosemarie DeWitt, Kevin Spacey on Jeff Goldblum, Noah Emmerich on Patricia Clarkson's film-stealing turn in "Elegy," Virginia Madsen on Dennis Hopper's work in the same film, and in a particularly inspired match-up, Richard Belzer on Brendan Gleeson in "In Bruges."
Lovely stuff all round, and a reminder that actors can often be more interesting when they're not talking about themselves for a change.