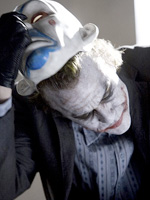 One of the true joys for me this season has been watching Christopher Nolan's "The Dark Knight" take on so much relevance and achieve such a higher state of purpose than a piece of entertainment.  Leaving awards aside for the moment, to see this character I've loved for so many years finally reach a sort of pinnacle, it is both beautiful and a bit of testimony, testimony to the potential a "throw-away" genre such as this holds, potential recognized in the geek culture for decades, making its way to the surface of traditional media through dedicated and restless souls in recent times…finally.
This grassroots campaign for the film gets all of that and more.  The site, DarkCampaign.com, sports a sleek design that invites the casual Internet reader to dive back in and remember that this is still one of the most powerful films of the year.  The site features a five-minute video (embedded below), splashing many of the critical huzzahs across the canvas of the film.  These guys must have gotten hold of a guild screener or something because there are a lot of scenes utilized that you certainly never saw on a trailer.
This is all the more interesting to me right now given that as of this afternoon, I have buckled and placed "The Dark Knight" into my predicted five Best Picture nominees.  With films falling out left and right, this one is still standing and still resonates.  Maybe I was wrong.  Oscar column still to come.
Their mission statement, in part:
Films like this only come along once in a lifetime…And yet it has an uphill battle ahead of it for Academy Awards nomination chances.  But why?  Well because Academy voters love tradition.  All 78 years of it. Tradition says that movies based on comic book characters do not get nominated for awards.  Summer Blockbusters?  Not likely. Sequels?  Definitely not.  So what this campaign aims to do is help turn the tide on those long odds…get out there and spread the word and don't let a chance at making history for The Dark Knight pass by.
And the video: