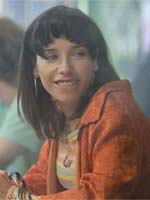 For those of you puzzling over whether certain titles will fall into the drama or musical/comedy categories at the Golden Globes, Tom O'Neil has a handy list to clarify matters.
Most significantly, "W." has not been accepted by the HFPA as a comedy, despite the film being submitted as one. This isn't exactly new information — Dave Karger confirmed the film's status a couple of weeks ago — but I know some were confused since the film was nominated in the comedic fields at the Golden Satellite Awards. It's the right call, in my opinion: witty as the film was in some isolated instances, it wasn't remotely a comedy.
"Rachel Getting Married" will compete in the dramatic fields, too — again the correct classification, I think. Anne Hathaway will now have to face feisty competition even to get nominated in the Best Actress in a Drama race. Meanwhile, bar an upset by Meryl Streep, Sally Hawkins looks to have a clear run to victory in the comedy/musical category for "Happy-Go-Lucky."
Looking down the list of films eligible for comedy/musical consideration, it becomes difficult to spot the potential winners between the gruesome parade of dross such as "Disaster Movie," "Beverly Hills Chihuahua" and "The Love Guru." (Seriously, why do they bother entering?) At a guess, I'd say it'll come down to "Burn After Reading," "Cadillac Records," "Happy-Go-Lucky," "Mamma Mia!" and "Vicky Cristina Barcelona," with Woody Allen looking a good bet to claim his first Best Picture gong in a couple of decades.
Suffice to say this category doesn't look likely to have much impact on Oscar's Best Picture slate this year.