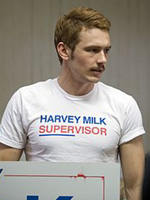 I'm late to the table on today's Independent Spirit Award nominations because I've been toiling away on the latest Oscar column (which should be up shortly).  Obviously, Sony Pictures Classics dominated the scene but I'm glad to see that this year's crop is more "independent" than in years past.
One nomination that stuck out to me was James Franco in the supporting actor category for "Milk" (a film good enough for four nominations but not for Best Picture — explain that to me).  Early on the idea was that Josh Brolin's foil character Dan White would be the better bid for the category at the Oscars.  Then word came that James Franco was the heartbeat of the piece and likely a better fit.  Finally, the film landed and I was not alone in thinking Brolin hit his performance out of the park.  Now this, so who knows?  I still get the feeling Emile Hirsch is lurking in the wings waiting for a surprise, maybe with SAG or even Oscar, but that's a difficult trio of supporting contenders to work through at the moment.
I get the feeling this year's Indie Spirits will be dominated by "The Wrestler" and "Rachel Getting Married," maybe some love for "Frozen River" here and there.  I'm happy to see "Synecdoche, New York" land the Robert Altman Award (which always seems to go to a highly deserving crew), and I'll certainly be pulling for Harris Savides yet again in the cinematography category.
The nominations:
Best Feature
"Rachel Getting Married" (Neda Armian, Jonathan Demme, Marc Platt)
"The Wrestler" (Darren Aronofsky, Scott Franklin)
"Wendy and Lucy" (Larry Fessenden, Neil Kopp, Anish Savjani)
"Ballast" (Lance Hammer, Nina Parikh)
"Frozen River" (Chip Hourihan, Heather Rae)
Best Director
Tom McCarthy, "The Visitor"
Jonathan Demme, "Rachel Getting Married"
Courtney Hunt, "Frozen River"
Ramin Bahrani, "Chop Shop"
Lance Hammer, "Ballast"
Best First Feature
"Afterschool" (Antonio Campos, Sean Durkin, Josh Mond)
"Medicine for Melancholy" (Barry Jenkins, Justin Barber)
"Synecdoche, New York" (Charlie Kaufman, Anthony Bregman, Spike Jonze, Sidney Kimmel)
"Sleep Dealer" (Alex Rivera, Anthony Bregman)
"Sangre De Mi Sangre" (Christopher Zalla, Per Melita, Benjamin Odell)
John Cassavettes Award
(Given to the best feature made for under $500,000; award given to the writer, director, and producer)
"Prince of Broadway" (Sean Baker, Darren Dean)
"Take Out" (Sean Baker, Shih-Ching Tsou)
"The Signal" (David Bruckner, Dan Bush, Jacob Gentry, Alexander Motlagh)
"Turn the River" (Chris Eigeman, Ami Armstrong)
"In Search of a Midnight Kiss" (Alex Holdridge, Seth Caplan, Scoot McNairy)
Best Screenplay
Woody Allen, "Vicky Cristina Barcelona"
Anna Boden & Ryan Fleck, "Sugar"
Charlie Kaufman, "Synecdoche, New York"
Howard A. Rodman, "Savage Grace"
Christopher Zalla, "Sangre De Mi Sangre"
Best First Screenplay
Dustin Lance Black, "Milk"
Lance Hammer, "Ballast"
Courtney Hunt, "Frozen River"
Jonathan Levine, "The Wackness"
Jenny Lumet, "Rachel Getting Married"
Best Female Lead
Summer Bishil, "Towelhead"
Anne Hathaway, "Rachel Getting Married"
Melissa Leo, "Frozen River"
Tarra Riggs, "Ballast"
Michelle Williams, "Wendy and Lucy"
Best Male Lead
Javier Bardem, "Vicky Cristina Barcelona"
Richard Jenkins, "The Visitor"
Sean Penn, "Milk"
Jeremy Renner, "The Hurt Locker"
Mickey Rourke, "The Wrestler"
Best Supporting Female
Penelope Cruz, "Vicky Cristina Barcelona"
Rosemarie DeWitt, "Rachel Getting Married"
Rosie Perez, "The Take"
Misty Upham, "Frozen River"
Debra Winger, "Rachel Getting Married"
Best Supporting Male
James Franco, "Milk"
Anthony Mackie, "The Hurt Locker"
Charlie McDermott, "Frozen River"
JimMyron Ross, "Ballast"
Haaz Sleiman, "The Visitor"
Best Cinematography
Maryse Alberti, "The Wrestler"
Lol Crawley, "Ballast"
James Laxton, "Medicine for Melancholy"
Harris Savides, "Milk"
Michael Simmonds, "Chop Shop"
Best Documentary
"The Order of Myths" (Margaret Brown)
"Up the Yangtze" (Yung Chang)
"Encounters at the End of the World" (Werner Herzog)
"The Betrayal" (Ellen Kuras & Thavisouk Phrasavath)
"Man on Wire" (James Marsh)
Best Foreign Film
"The Class" (Laurent Cantet)
"Gomorrah" (Matteo Garrone)
"Secret of the Grain" (Abdellatif Kechiche)
"Hunger" (Steve McQueen)
"Silent Light" (Carlos Reygadas)
Robert Altman Award
Charlie Kaufman (Director), Jeanne McCarthy (Casting Director), Hope Davis, Philip Seymour Hoffman, Jennifer Jason Leigh, Catherine Keener, Samantha Morton, Tom Noonan, Emily Watson, Diane Weist, Michelle Williams, "Synecdoche, New York"
Piaget Producers Award
Heather Rae, "Frozen River"
Jason Orans, "Goodbye Solo," "Year of the Fish"
Lars Knudsen and Jay Van Hoy, "Treeless Mountain," "I'll Come Running"
Acura Someone to Watch Award
Lynn Shelton, "My Effortless Brilliance"
Nina Paley, "Sita Sings the Blues"
Barry Jenkins, "Medicine for Melancholy"
Lacoste Truer Than Fiction Award
Darius Marder, Loot"
Sacha Gervasi, "Anvil! The Story of Anvil"
Margaret Brown, "The Order of Myths"