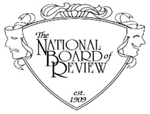 Not from me, anyway.  Other blogs might want to go there, but I can't do it.
Yes, the National Board of Review is set to unveil its top 10 list and rundown of awards winners on Thursday, but I can't muster the courage to offer a set of predictions.  Let alone the fact that the group has marginalized itself to the point that being the first precursor is nothing more than a trivial aside.  (Though I guess they're really not first, but who cares about the Golden Satellites?).
Regardless of all of that, how do you wrestle with forecasting an organization that chalks up "The Bucket List" as one of the year's best?  Plus, I don't know who's spending the most money on the NBR banquet this year, so it's hard to know what studios will fare better.  What, you gonna tell me money doesn't count with this crowd?
The year's annual joke will hit in three days, then we can move on to the real precursor circuit, but in the meantime, Dave Karger has taken a stab (perhaps foolhardy in his exclusion of "The Dark Knight" — WB knows how to woo the NBR), while Sasha Stone has provided a space for your own predictions and a rundown of NBR stats and how they compare with Oscar through the years.  Ugh.  I just can't bring myself to care.
But if you can, have at it and predict the NBR's annual awards below.