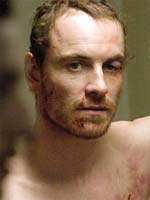 Sight & Sound's annual Top Ten is, for my money, one of the most intelligent and respectable of all critics' lists, and this year's is no exception. Revealed in the magazine's just-out January 2009 issue, the list is drawn from a poll of 50 international critics, including such heavyweights as Kenneth Turan, Amy Taubin, Armond White and Peter Bradshaw, and the results (for me, at least) are hard to argue with.
The list rather bluntly highlights the less-than-stellar year American cinema has had, with only one 2008 U.S. picture ("WALL-E") making the cut. (The inclusion of "There Will Be Blood" stems from UK release date differences, which might also account for the low profile of some current year-end contenders.) But it's a rich and exciting collection of films, however you look at it:
1. "Hunger" (Steve McQueen)
2. "There Will Be Blood" (Paul Thomas Anderson)
3. "WALL-E" (Andrew Stanton)
4. "Gomorrah" (Matteo Garrone)
=5. "A Christmas Tale" (Arnaud Desplechin)
=5. "The Class" (Laurent Cantet)
7. "Of Time and the City" (Terence Davies)
8. "Happy-Go-Lucky" (Mike Leigh)
=9. "The Headless Woman" (Lucrecia Martel)
=9. "Let the Right One In" (Tomas Alfredson)

I can't tell you how much happier I would be if the eventual Best Picture nominees were drawn from that lot. We can but dream.
I also have to say, by the way, that "A Christmas Tale" has really grown on me in the weeks since I saw it at the London Film Festival, as the visual and structural clutter of Desplechin's approach has revealed to me, in hindsight, a greater thematic density than I perhaps originally credited it with. It's one of the hazards of writing starred reviews that one often has to assign a numerical value to a film before it has completely settled in one's mind. Suffice to say I would now bump up my original three-star rating.
The same goes for "Happy-Go-Lucky," where instances of what I initially perceived as writerly imprecision now seem to speak more to the film's current social context. Easily one of the year's finest.
I digress. Anyway, it's an impeccable list, as you'd expect from a publication that has previously crowned masterworks like "Amores Perros," "Cache" and "4 Months, 3 Weeks and 2 Days" the best of their respective years. Good work, S&S.