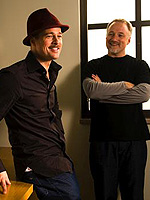 (I use the Mcmoniker with love, Scotty.)
Scott Bowles caught up with David Fincher and Brad Pitt, the respective director and star of "The Curious Case of Benjamin Button," over the weekend.  It's a typical profile piece in many ways but I thought Bowles did a nice job digging into the relationship these two guys have.
Up around the top he offers:
Since Pitt and the director met 15 years ago, they have become close friends — and crucial components in each other's professional lives.

Fincher provides Pitt gravitas. He may have received an Oscar nomination for his role in Twelve Monkeys, but Pitt is the first to acknowledge that his dramatic chops are more recognized in Fincher's Se7en and Fight Club.

Pitt, in return, bestows Fincher inordinate clout. For a guy who has never made a blockbuster, Fincher is able to make the movies he wants, glum endings and all, thanks in part to his friendship with the most famous actor on the planet.
There's some nice supporting commentary from "Button" co-star Taraji P. Henson, then some more flavor:
[Pitt] discovered Fincher after a drunken night in Tijuana.

The actor says he felt like seeing a movie "after a night of utter debauchery" in Mexico in 1992. He settled on Alien 3, Fincher's feature-film debut. The movie's malevolent tone and (spoiler alert) stunner conclusion — the young director killed off Sigourney Weaver's character, Ripley — earned the movie abhorrent reviews. It grossed $53 million, the worst in the franchise.

Pitt loved it.

"I remember walking out of the theater thinking, 'OK, that was not what I expected,' " Pitt says. "That wasn't a Hollywood ending. It really stuck with me."

"Maybe it was the hangover," Fincher jokes.

Soon after, Pitt got hold of the screenplay for Se7en, Fincher's cop drama about a serial killer who murders based on the Seven Deadly Sins.

Pitt immediately signed on, with one caveat: The studio could not change the film's final scene (spoiler alert 2): Pitt's character executes the killer.

Pitt and Fincher found they clicked on set, despite stark differences in style.
I personally liked this aside:
But for all their differences, they discovered they shared a similar sense of humor and irreverence.

After Se7en wrapped, Fincher wondered what should be done with the bloated mannequin used to re-create the murder of a 400-pound man.

"Let's save it for the party at the premiere," Pitt told him. "And fill it with bean dip." Studio executives nixed the idea.
Brilliant.  It's a nice little piece.  Read the rest here.