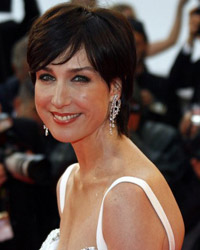 Though still in her 30s, Elsa Zylberstein's career has been so rich and multi-stranded — in addition to two decades of screen performances, she has also worn the hats of a classical dancer and a United Nations Goodwill Ambassador in the past — that it's odd to think she is only now achieving Stateside recognition for a role in one very modest film.
Or it would be, at least, were that film not "I've Loved You So Long," Philippe Claudel's searing, critically acclaimed study of lives undone by grief and separation.  The film has quietly emerged as one of the most memorable entries in another banner year for French cinema. You have no doubt heard the well-deserved buzz for star Kristin Scott Thomas, but she's not the film's only name generating whispers in awards circles.
As Thomas' onscreen sister, a seemingly grounded wife and mother whose carefully organized sense of self begins to collapse as she is confronted directly with her past, Zylberstein's delicate, empathetic portrayal is a dark horse to watch in the Best Supporting Actress race. The term "supporting," however, isn't entirely accurate.  Not unlike the season's other highly-praised story of sisterly reunion, "Rachel Getting Married," the film sees two sterling actresses supporting each other, each playing impeccably off the other's gestures and silences.
For Zylberstein, it marks the clear high point of an already-fascinating career, and she doesn't mind admitting that she's been taken happily off-guard by the response to the film.
"It's just exploded," she enthuses down the phone line, in her limber, beguilingly accented English. "Nothing like this was meant to happen, was it? I mean, it's just this tiny little film. And now… bang! I've just been in London, and I'm now I'm going to L.A. tomorrow, and people there know the film. And they know me in it. I'm just, like, what?"
She laughs, as do I: her giddiness is infectious. I've caught her at her Paris home, relaxing for a few moments just before she heads off to her father's birthday party.  ("I got him an iPhone.  You do think that's a good idea, right?" she sidetracks, as if I was one of her oldest friends.)
It's a little surprising to find Zylberstein so garrulous and joyful off-screen, when her on-camera persona, in "I've Loved You So Long" and elsewhere, is softer and more contained. A familiar art house presence, hitherto best-known for her recurring professional partnership with the revered (and prolific) Chile-born auteur Raoul Ruiz, Zylberstein reveals that Claudel, a novelist making his filmmaking debut with "I've Loved You So Long," actually wrote the film with her in mind.
"I knew he was an amazing writer, and he has this incredible understanding of women," she explains. "So we met and I said to him, 'You really should write a film about two women.' And a few months later he calls me and says it's done. And I read it, and it was beautiful. I finished it, and I was shaken from the bottom of my body. I had to do it."
She was particularly drawn to the idea of playing the sister with the less overtly dramatic story, probing the subtle tragedy of her everyday life. "The way I see it, Juliette (Thomas' character) may have been the one in jail, but both the sisters have been in prison for the longest time," she says.  "For years, Lea (Zylberstein's character) has been pretending to be an adult woman, but in reality she isn't. She's still this little girl who has been waiting for this sister she doesn't know for 15 years. And it's only when her sister is released, that she is also released from all this guilt inside her." She pauses after this rapid explanation. "Simply, it's a story of two girls and how they went through hell — together, but apart."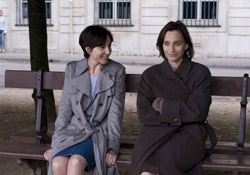 It strikes me as a spot-on interpretation of the very complex dynamic between the two characters, whose tense reunion Zylberstein aptly likens to "two wild animals slowly discovering each other." Claudel was careful to cultivate that sense of watchful wariness between the two by keeping his stars apart before filming, save for a single reading.
"I'd met Kristin before at parties," she elaborates, "but I didn't know her at all. Which was perfect, because Juliette and Lea don't really know each other either. So Kristin and I literally got to know each other as we played the parts. Some days we were close; some days less so. We moved with the characters."
Zylberstein describes the biggest challenge of the role as "creating 15 years of myth," building and studying character from fine physical details, whether washing hair, reading books or swimming in the pool that forms such a crucial bonding space for the sisters.
"Philippe let us trust our instincts, really," she says. "He'd just say, 'I want you to always to be on the edge,' and let us connect with whatever real feelings or memories help us. The most important thing is to use life to give life. That's what all the actors I admire most — Meryl Streep, Julianne Moore, Cate Blanchett — do."
Beyond her own performance, however, Zylberstein can't suppress how proud she is of the entire film, and of her director: "Can you believe it's a debut?" she gushes. "I just love his humanity, how he takes his time unfolding his characters, but knows exactly what he's doing all along. It reminds me a bit of Ingmar Bergman, you know? I shouldn't compare, but…" She trails off.
In the way she respects and studies their work, she's quite clearly a directors' actor. She regards the aforementioned Ruiz — with whom she recently introduced their fourth collaboration, the Balzac adaptation "Nucingen Haus," at the London Film Festival — as a close mentor, and is quick to compile a list of auteurs she has long desired to working with, including Steven Soderbergh, Danny Boyle and Mike Leigh.
It's an ambition she keeps clear sight of, even as she head into the breathless flurry of awards season. "I won't lie. Any kind of award…that would be the dream of my life," she admits bashfully. "Just for it to be mentioned as a possibility is amazing, surreal. But I'm not thinking about that."
Our time is up, and Zylberstein's evening celebrations beckon. Before going, however, she offers a parting shot as practical as her choice of birthday gift: "Awards are wonderful. But in the end, the highest award any actor can ask for is an offer from a great director."